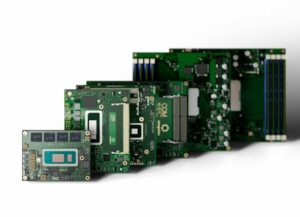 congatec has confirmed that it will be developing embedded computing products based on PICMG's (PCI Industrial Computer Manufacturers Group) newly-ratified COM-HPC 1.2 specification, which introduces the COM-HPC Mini form factor. This new specification provides high-performance capabilities in a small form factor, measuring only 95 mm x 70 mm. Even devices with limited space, such as small UAVs (unmanned aerial vehicles) and drones, can now benefit from the superior bandwidth and interface capabilities of COM-HPC, including PCIe Gen 5 and Thunderbolt.
According to congatec, COM-HPC has established itself as the most scalable Computer-on-Module (CoM) standard, covering a wide range of applications from small form factor designs to edge servers. This simplifies the design process and enables the creation of complete product families with reduced engineering efforts. COM-HPC modules support not only specific processors like x86 or Arm but also FPGAs, ASICS, and AI accelerators, making it a comprehensive standard for developing innovative applications based on the latest embedded and edge data processing technologies.
congatec is committed to supporting the adoption and implementation of the COM-HPC Mini specification, enabling customers to bring their solutions to market quickly. As a leading provider of embedded computing solutions, congatec also continues to develop and deliver products that align with the latest industry standards.
Christian Eder, Chairman of PICMG's COM-HPC Working Group and Director of Market Intelligence at congatec, commented: "COM-HPC offers the highest performance, bandwidth, interfaces, and scalability compared to other computer-on-module standards and with COM-HPC Mini, engineers can now leverage all this on a real small form factor for space constrained embedded and edge computing designs."