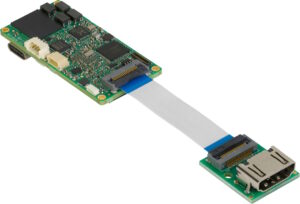 Maris-Tech, a B2B provider of edge AI accelerated video solutions, has launched a new drone-oriented product based on the company's Jupiter Nano platform.
Jupiter Drones meets the diverse and emerging requirements of the UAV (unmanned aerial vehicles) market, and is suitable for a wide range of professional civilian, homeland security, and defense applications. The compact and lightweight system is specifically tailored to fit a variety of drone camera configurations and offers an optional add-on AI acceleration module.
The product provides a dual-channel H.264/5 codec, handles multiple streams simultaneously and supports ultra-low-latency network streaming. Capabilities include video and audio capture, encoding and decoding, transcoding, display and raw video data pre-processing.
Israel Bar, Chief Executive Officer of Maris-Tech, commented: "Our breakthrough product has a lighter, compact form factor uniquely designed for integration on drones, featuring Maris-Tech's powerful, best-in-class video streaming technologies. Maris-Tech continues to focus on high-performance solutions that deliver a technological edge and superior operational performance for every type of unmanned platform."
Find suppliers & manufacturers of Video Processing Solutions for Drones and UAV >>