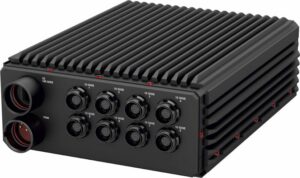 General Micro Systems (GMS) has launched the X9 Spider Intelligent Switch, an accelerated networking module designed to improve the performance of Ethernet-based military applications without compromising size, weight and power (SWaP) requirements. This fully sealed, rugged, fanless and battlefield-ready switch features eight 10 GBase-TX Ethernet ports and four 100 Gb Ethernet ports, and is designed to provide industry-leading bandwidth and efficiency in support of demanding mission-critical activities such as data fusion, video and AI processing in UAVs (unmanned aerial vehicles) and unmanned systems.
The X9 Spider Intelligent Switch is intended for use within GMS' X9 Spider family of modular, scalable and open distributed computing architecture (DCA) systems, which are designed to reduce the development barriers to rugged high-performance computing, high-definition video, sensor processing, AI, battlefield edge processing, storage, display and I/O. The switch can also be used in any standalone high-performance deployed network, including industrial and other types of rugged applications.
The heart of the X9 Spider Intelligent Switch is a Broadcom ultra-low latency, high bandwidth, enterprise-class and rugged switch, with up to 880 Gbps core switching bandwidth, coupled with an Intel Atom CPU, 32 GB DRAM and 1 TB SSD capacity. Capable of packet processing, forwarding and layer 2/3 routing, the X9 Spider Intelligent Switch enables intelligent, high-reliability networking without impacting mission-critical application processors. The switch uses Nvidia Cumulus Linux as its configuration software, unlocking advanced network configuration and packet processing capabilities like those found in routers running the internet cloud and data centers.
The X9 Spider Intelligent Switch's eight 10 GBase-TX Ethernet ports and four 100 Gb Ethernet ports are 10 times and 100 times faster than the current "best" Ethernet at 1 Gb, using rugged GMS-style or mil-circular connectors for lab use and production applications. All connectors for power, 100 Gb Ethernet, service and 10 Gb Ethernet ports are fully rugged, waterproof (IP67) and include covers to prevent damage when no cables are connected.
The Intel Atom-based host processor is responsible for "housekeeping" switch configuration and provides a browser user interface for control and programming. To facilitate this interface, the switch includes a service port with video, dual USB ports and a 1Gb Ethernet port for remote access.
The X9 Spider Intelligent Switch highlights include:
Highest SWaP high-performance rugged Ethernet switch
Only 6" x 4.75" x 2" at only two pounds
Ultra-fast, low latency, 12 port intelligent Layer 2/3 switch
Up to 880 Gbps bandwidth switching via non-blocking, enterprise-class Broadcom 56760 switch
Four native 100G fiber Ethernet ports
Eight 10 GBase-TX Ethernet ports
Quad core Intel Atom CPU for packet operations and configuration
Configured via Nvidia® Cumulus® Linux for advanced top-of-rack data center IP processing
Up to 32 GB DRAM for packet and routing table processing
High-performance stacking and fast failover within 100 ms
Ben Sharfi, CEO and chief architect at GMS, commented: "The move to sophisticated data fusion, video and AI workloads within vehicles, ships, unmanned aerial systems and airborne platforms is an emerging megatrend in military programs. As a result, these systems must have rugged networking backbones capable of supporting commercial rack-mount-like performance. Our new X9 Spider Intelligent Switch is the only solution available today with necessary elements to make it happen — and it's all in a module you can fit in the palm of your hand, with the highest bandwidth and most platform throughputs of any switch out there."
"As a key component of our X9 Spider family, the innovative design of the X9 Spider Intelligent Switch ensures the performance and reliability of next-generation in-vehicle, embedded and distributed networks plus the data they carry. Our end-to-end optimization for increased bandwidth and port counts, along with unprecedented architectural flexibility and ruggedization, is driving program win momentum for GMS products among military programs and industry partners."
Find more suppliers of rugged switches for UAVs and unmanned systems here