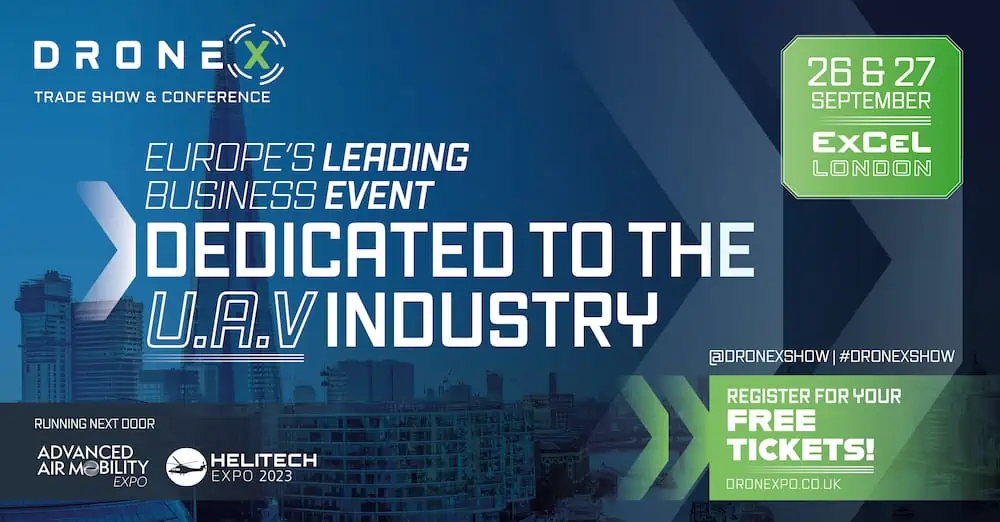 This year's DroneX Tradeshow & Conference at the ExCeL London, will run in parallel with Advanced Air Mobility Expo and Helitech Expo, 26 – 27 September 2023.
DroneX brings together key innovators, pioneers, suppliers and buyers from commercial, military and future of flight industry sectors, for 2 days of keynote conferences, networking and live demos.
What you can expect:
Keynote Theatre
Carefully selected keynote speakers will deliver invaluable advice, knowledgeable tips, tricks, and insights on the latest trends and developments that are shaping the unmanned industry. Alongside the Keynote Theatre, this year's event will also feature Surveillance, Commercial, and Future of Flight theatres.
DroneX Connect
DroneX connect is a networking platform for like-minded professionals with a passion for the UAS industry – meet potential suppliers, industry leaders and key stakeholders.
DroneX Awards
Recognizing leading pioneers within the unmanned sector, the DroneX Awards celebrate drone industry services, innovations and solutions that have significantly impacted the industry over the past 12 months.
DroneX exhibits the latest in UAV products and technologies, showcasing industry trends, advancements, and sustainability within the sector, in support of the industry goals for a safer, more efficient and greener airspace.
"Drones have become a must-have throughout many different sectors and the possibilities of unmanned vertical flight are endless. We cannot wait to welcome you to the biggest and best UAV event of the year, you do not want to miss it." – Adnan Hiroli, Event Director of DroneX.