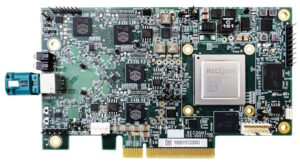 Recogni has released Pegasus, a PCIe card that allows the company's Scorpio, the world's first 1000 TOPS (Peta-Op) class inference solution for autonomous mobility, to be configured for any autonomous mobility application. When using Pegasus in conjunction with the Recogni SDK, users can take advantage of Scorpio's high compute capabilities, with low power consumption, low latency and low system cost.
Pegasus can process up to four 8 megapixel cameras to provide front and surround views, and uses the Recogni SDK to convert, compile, profile and deploy models. Perception output includes 3D object detection, vulnerable road user detection, lane detection, free space detection, and traffic light/sign detection. This makes Pegasus a flexible solution for a variety of autonomous mobility applications, including robotaxis, autonomous trucking, drones, autonomous delivery vehicles, and autonomous aviation.
Unlike traditional solutions that are based on legacy technology and repurposed for the monumental task of AI perception processing for autonomous mobility, Recogni's system is purpose-built to overcome compute and power efficiency barriers specific to autonomous mobility. Using Pegasus in conjunction with the Recogni SDK proves that Recogni's purpose-built accelerator, Scorpio, is ready to be implemented in a variety of autonomous applications. In addition, because Pegasus has a high degree of development and deployment flexibility, it allows for much faster time to market for any autonomous mobility application.
Marc Bolitho, CEO of Recogni, commented: "The need for autonomous capability is growing rapidly across all forms of transportation, and Recogni is committed to providing the most powerful, purpose-built solutions for autonomous mobility, regardless of use case. Being able to easily integrate Scorpio into any autonomous mobility application with our new Pegasus PCIe card and Recogni's SDK showcases the multiplatform flexibility, as well as the robustness and readiness of our solutions. We're pleased to empower our customers with system architectural flexibility and fast deployment in autonomous mobility applications."
Dr. Yvonne Lutsch, Investment Principal at Bosch Ventures, noted: "Having been in the automotive and autonomous driving industry for decades, it became clear that autonomous capabilities would only be able to go so far when using existing technology. Recogni has proven that to move the industry forward, it requires purpose-built technology that is powerful, flexible, and easy to integrate. And Recogni continues to demonstrate their credibility as an autonomous technology provider."