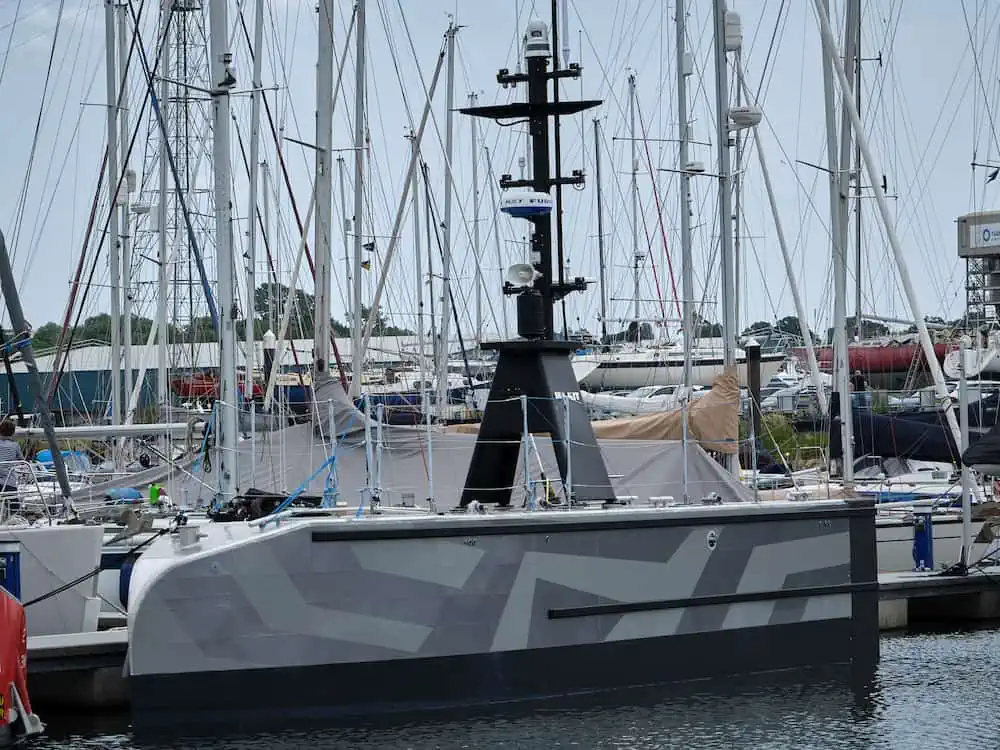 American autonomous maritime solutions provider ThayerMahan ordered a SEA-KIT X-class Unmanned Surface Vessel (USV) in 2022, having seen the 12-meter design proven on numerous commercial operations around the world.
SEA-KIT is now preparing to deliver on its export deal with the Connecticut-based company.
The seventh X-class USV to leave SEA-KIT's production facility in the East of England, the X107T boasts several enhancements and technology developments. These include a new winch system, developed by SEA-KIT to integrate with the company's proprietary G-SAVI virtual helm station, that will enable deployment of large, towed arrays and sensors down to 3,000 meters. The company has also further developed G-SAVI, taking the technology another step towards becoming a fully classed autopilot system whilst continuing to advance its situational awareness suite.
The USV is currently undergoing extensive sea trials in the UK before being shipped to the US to commence operations stateside later this summer. The X-class design fits inside a standard shipping container, making it cost-effective to ship overseas.
ThayerMahan plans to use the USV to support introduction of the technology into government service, as well as for its own activities in US and international waters. The company believes X107T's hi-tech specification will stand it in good stead for the levels of scrutiny expected for military and security applications, as well as having a positive impact on the company's future commercial builds.
Mike Connor, President and CEO of ThayerMahan, said: "The flexible payload on SEA-KIT's USV design, coupled with its ability to operate near silently for long periods of time, will enable us to continue our leadership stance in remote and autonomous mobile acoustic sensing and sense making. By improving maritime domain awareness efficiencies with this vessel, we ultimately keep people safe while protecting critical infrastructure and the ocean environment."
Ben Simpson, CEO of SEA-KIT, said: "Once X107T is operational, SEA-KIT will have vessels working in the Middle East, Asia, Australia, all over Europe and in the US. This USV will take on quite different tasks and missions to the commercial craft, which demonstrates the versatility of the X-class design as a safe platform for any payload. The UK's leading position in maritime autonomous systems is clearly drawing international interest, which is testament to everyone involved in the sector here."
Find Unmanned Surface Vehicle (USV) companies and suppliers>>