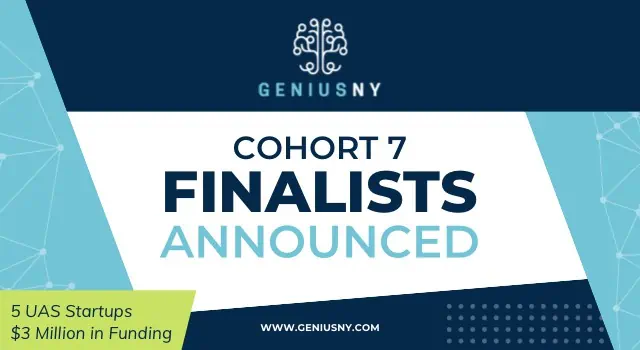 Empire State Development (ESD) has announced the five teams selected to take part in round seven of the GENIUS NY business accelerator program.
Supported by the CNY Rising Upstate Revitalization Initiative and administered by CenterState CEO and The Tech Garden in downtown Syracuse, these startup unmanned systems industry companies will participate in a yearlong program.
The five finalists include teams with international and New York state representation and were selected from a pool of more than 450 submissions. They will compete for $3 million in direct investment, with one grand prize of up to $1 million and four $500,000 awards.
The GENIUS NY program is the largest business accelerator for the UAS industry in the world, with participants required to commit to operating their business in Central New York for at least one year.
Hope Knight, Empire State Development President, CEO & Commissioner, said: "The GENIUS NY accelerator has helped to establish Central New York as a hub for uncrewed aerial systems by attracting the next generation of innovative entrepreneurs. New York State's ongoing UAS investment will ensure that continued industry leadership, bringing top-quality jobs and growth to the region and beyond."
Starting July 12, the five selected companies will move into downtown Syracuse where they will begin to refine work on their business cases, which they present at the Pitch Finals event on Wednesday, Oct. 4, 2023.
Kara Jones, director of GENIUS NY, said: "This round's teams bring an exciting new mix of technologies being developed in the uncrewed systems space. We are excited for their arrival in Central New York in just a few short weeks, and to work with them over the coming year as they connect with local businesses and partners on strategic opportunities for collaboration and growth. Our goal is to not only support startups so they succeed in the UAS industry, but so that they can do so right here in our region, well after their participation in the program."
The five selected finalists are:
Aloft (Silver Spring, Maryland), an FAA-approved UAS Service Supplier (USS) for LAANC, powering the vast majority of recreational and commercial airspace authorizations. Aloft also has an exclusive public-private partnership with the FAA to power B4FULY. Through state-of-the-art technologies and sophisticated data services, Aloft aims to enhance the safety and efficiency of drone operations, facilitating their integration into the National Airspace System.
Blueflite (Detroit, Michigan), a company designing and manufacturing a logistics drone platform to solve the modern-day challenges in the logistics industry. Blueflite's drones offer faster and greener deliveries at a lower cost compared to conventional transport. The unique and patent pending tiltrotor design features vectored thrust giving it unrivaled maneuverability and the ability to operate under challenging conditions. The digital element of the platform allows for integration into an all-automated supply chain for high-speed deliveries at scale.
Greenjets (Milton Keynes, UK) Greenjets, which is building next generation electric propulsion systems for advanced air mobility. Their ducted fan propulsion technology is the quietest, safest and most efficient of its class. The Greenjets team has over 300 years of deep domain knowledge carried over from Rolls-Royce, BAE Systems & Formula 1. Learnings from these experiences are reflected in a unique design & manufacturing methodology, which allows production of propulsion systems at an unrivalled pace.
Voltela (Brooklyn, NY) provides connectivity assurance for commercial drones. Remote pilots must rely on reliable Command and Control connections. The mobile network was not built for aerial connectivity and changing the infrastructure is not viable. Voltela's patented software operates with off-the-shelf modems enabling prioritized connections with guaranteed low latency via any mobile network. Voltela's superior connectivity performance achieves aviation-grade reliability levels and is the foundation for building the Aerial Virtual Network Operator.
Votix (Weston, Florida) is an American Enterprise Drone Orchestration and Automation platform and the first universal (hardware-agnostic) drone operating system for commercial operations at scale. VOTIX integrates the entire drone ecosystem, ensuring high-quality results, and safe and robust operations, guaranteeing compliance with regulators and stakeholders, creating synergies within the industry's ecosystem, reducing process time and generating superior intelligence. VOTIX supports VLOS/EVLOS while enabling BVLOS operations, autonomous flights, real-time cloud video streaming and AI, precision landing, drone-in-a-box integration and much more.
Throughout the program teams will have access to free workspace at The Tech Garden, experts and other founders specific to their industry, executive advisors, recruiting, marketing and fundraising support, programming and events, the opportunity to apply for the UAS Job Fund, as well as other perks like access to platforms such as PitchBook, and offer companies AWS credits. The goal is to encourage all participants to put down roots and stay in the region following the conclusion of the program.
Rob Simpson, president of CenterState CEO, said: "Each year, the strength of our applicant pool and the finalist teams – from across the country and globe – continue to speak to the strength of the GENIUS NY program and that Central New York is the single best place to grow your UAS company. We are excited to welcome this new cohort to see their innovative technologies and platforms accelerate through the GENIUS NY program, and our ecosystem of partners and resources."
Since 2017, GENIUS NY has invested $18 million in 32 companies from around the world and brought them to Central New York to participate in the yearlong in-residence accelerator where they receive assistance with product development, business development, and networking opportunities with investors and business leaders.
Participants are also integrated into the larger regional effort to grow unmanned aerial systems in Central New York and the Mohawk Valley, and will have access to world-leading infrastructure and testing assets. Participants also have opportunities to connect with investors for follow on funding. Since 2017, GENIUS NY companies have raised more than $100 million in follow-on funding and have created over 80 jobs in New York.
State Senator Rachel May, said: "It's exciting to see the continued success of the GENIUS NY business accelerator program, adding to Central New York's rapidly growing technology and innovation sector. This program is now integral to our burgeoning drone industry, bringing more high-quality jobs to our area and benefiting the community in many other ways. Congratulations to the five teams that have made it this far. I'm looking forward to seeing what you do in the future,"
State Senator John W. Mannion, said: "The GENIUS NY accelerator is a great opportunity for startups in the UAS industry to gain access to Central New York's growing resources and expertise in the field. The program's strong track record of success speaks for itself, and I am confident that the five finalists selected for this year's cohort will be well-positioned to grow their businesses and make a significant impact on the UAS industry in Central New York and beyond."
State Assemblymember Al Stirpe, said: "Since the launch of GENIUS NY Accelerator program, the technological ingenuity and collaborative UAS partnerships flourishing in Central New York has been exciting and a testament of our region's commitment to the job creating aviation industry of the future. The Tech Garden is an incredibly powerful hub for these tech startups to hone-in on their innovative craft while leveraging the invaluable resources network of CenterState CEO. Congratulations to all five finalists of the GENIUS NY Round Seven program for advancing this far and wish them the best of luck in this globally scaled competition."
Assemblymember William B. Magnarelli, said: "Congratulations to the finalists. The Genius NY Competition continues to help Central New York maintain its status as a hub for innovative companies exploring uses for uncrewed aerial systems and other leading-edge technologies. The partnerships and opportunities created locally during the entrepreneurial stage create a catalyst for growth in our Central New York region."
Assemblymember Pamela Hunter, said: "Congratulations to this round of finalists. I am impressed by the work they have done so far and I'm excited to welcome such diverse teams to Central New York. GENIUS NY is playing a huge role in making Central New York a robust tech ecosystem. We look forward to seeing these leaders grow in Syracuse and diversify our local economy."
Onondaga County Executive, J. Ryan McMahon, said: "As we continue our focused work to grow and diversify our local economy, we are incredibly excited to welcome these teams to our community. The GENIUS NY competition continues to serve as a platform to showcase why Central New York is an exceptional place to grow a business. I wish these innovators the best of luck and we are ready to provide them with any support that they may need."
City of Syracuse Mayor Ben Walsh, said: "GENIUS NY is part of a thriving technology ecosystem in Syracuse and Central New York. It has aided in expanding our entrepreneurial and tech cultures and brought energy and excitement to the Syracuse Surge — our strategy for inclusive growth in the New Economy. I look forward to the innovative ideas the five teams bring to round seven of GENIUS NY, and thank Governor Hochul, Empire State Development and CenterState CEO for their continued investments to keep GENIUS NY soaring."
Central New York Regional Economic Development Council Co-Chairs Randy Wolken, President & CEO of the Manufacturers Association of Central New York and Le Moyne College President Linda M. LeMura, said: "Congratulations to the innovative teams selected to take part in round seven of the GENIUS NY competition. We are proud to welcome these imaginative entrepreneurs to the region as they work to grow their forward-thinking ideas. Through the regional council's continued support for this competition, we are ensuring that New York state remains at the forefront of the growing UAS industry in Central New York, creating new opportunities and jobs for residents in the region for generations to come."