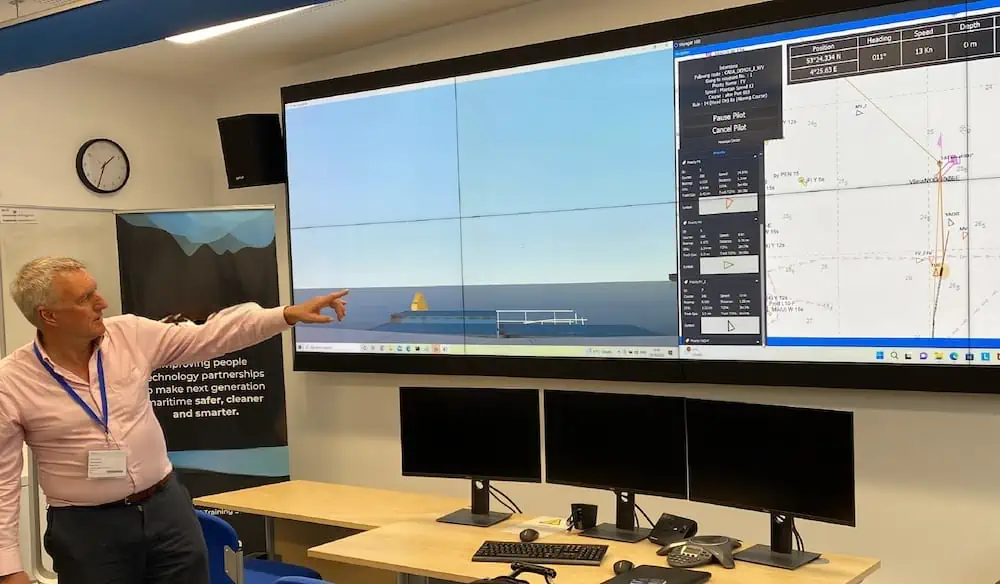 The world-leading Maritime Research Institute Netherlands (MARIN) has gone live with Robosys Automation's next generation Voyager AI intelligent autonomous navigation software.
Robosys' Voyager AI's unique capabilities to deliver intelligent thinking to maritime autonomy navigation was the original driver for MARIN to operate the solution with its own Dolphin Simulation software.
MARIN successfully trialled the original Voyager 100 in its Ship Simulator as part of the Netherlands Joint Industries Project, which, in 2019, culminated in North Sea trials with three ships.
Part of the project's objectives were to measure compliance of autonomous navigation software, with the IMO international Collision Regulations (COLREGS), comparing candidate test software systems with Robosys' Voyager 100 reference software.
Following this, in 2020, MARIN and Robosys announced a collaboration to enhance its testing of autonomous navigation, using Robosys' Voyager 100 system as the benchmark. MARIN is developing a testbed with which it can test the safety and COLREGs Compliancy performance of Obstacle Avoidance Systems.
Following Robosys' simulated and worldwide live testing, including India, Canada and Australia, from its UK headquarters at the UK's NOC, combined with data from its recent customer deliveries, the ground-breaking latest edition of Voyager AI was launched, featuring multiple benefits.
Dimitri van Heel, Senior Project Manager for MARIN, said, "Robosys Voyager 100 was tested in our simulator environment and performed well in the 2019 tests, therefore we are looking forward to evaluating the improvements included in their latest version."
Boasting improved collision avoidance and enhanced unique twinning to vessel operational characteristics and mission profile, the new and improved collision avoidance algorithms were devised through extensive utilization of simulation software combined with real-time challenges.
Multi-vessel avoidance maneuver scenarios have also been tested and further enhanced, with Voyager AI featuring improved Explainable COLREGs' compliance.
Taking advantage of advances in CPU design and their performance, Voyager AI's core algorithms have also been optimized to run even faster than Voyager 100, to deliver enhanced autonomy at higher speeds and in more challenging shipping situations.
In addition, the Loss of Communications (LoC) function is now a licensable feature of Voyager AI, providing peace of mind to operators by enabling mission continuity in the event of a breakdown in communications.
Furthermore, improved vessel track and dynamic navigational path changes are made in accordance with a vessels' specific maneuverability and its other performance characteristics, which results in a maneuvering path matched to that particular vessel's characteristics.
Navigational paths are now set and validated according to user-selected chart parameters, Voyager AI can now be swiftly tuned according to the specific vessel operating area, such as ocean, coastal, or inshore waters.
An exciting addition to Voyager AI has been the addition of an integrated Remote & Autonomous Platform Alarm, Monitoring & Control System (AMCS) tailored by Robosys to provide full support for both uncrewed and lean crewed craft.
Voyager AI now also integrates and controls multiple ship's hardware, including vessel systems, switches, relays and monitoring systems and alarms. This can range from deck and hull sensors, through to creating an auto-response to initiate an automatic fire extinguisher thanks to tailored pre-set values.
Key to platform integration is the alignment of payload control with vessel control systems and thus Voyager's AMCS now integrates payload control and the vessel's performance for seamless USV maritime operations which is specifically aligned to best suit the mission.
Nigel Lee, CSO, said: "We value this long term partnership with MARIN and are proud of the continual evolution of Robosys' Voyager AI. MARIN's ethos matches ours in the quest for a smart, safe and sustainable blue green economy."