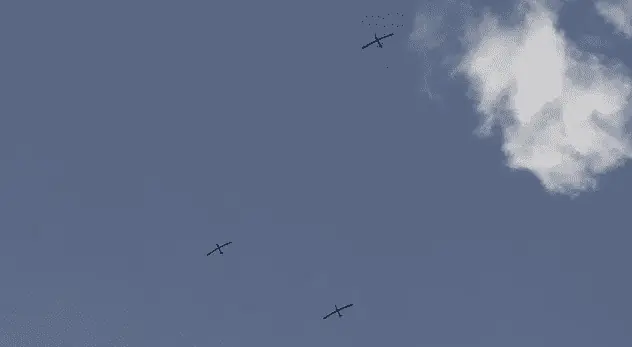 Anduril Industries Lattice for Mission Autonomy has completed a successful demonstration at the US Army's EDGE23 exercise, enabling an integrated team of multiple uncrewed aircraft to locate, identify and destroy a surface-to-air missile (SAM) site in support of soldiers conducting Army helicopter assault operations.
During EDGE23 at Yuma Proving Ground, a single soldier used Lattice for Mission Autonomy software to conduct pre-mission planning, operational analysis, and command and control of multiple uncrewed aircraft with different sensor payloads and mission systems provided by different industry partners, including three variants of Anduril's ALTIUS-600 launched effects and one Textron Systems Aerosonde HQ UAS.
Mission Highlights
The EDGE23 exercise began with Lattice for Mission Autonomy software controlling an ALTIUS-600, configured as an aerial decoy for enemy air defenses, and a Textron Systems' Aerosonde HQ UAS with CACI Spectral Sieve EW/ISR payload, which conducted a wide-area standoff search to geolocate SAM radars.
After the Textron Aerosonde HQ detected signals of interest, the Lattice for Mission Autonomy software then tasked a hunter-killer pair of autonomous assets consisting of an ALTIUS-600 with ISR payload and ALTIUS-600M loitering munition to conduct a high-fidelity search for additional signals and precise targeting data.
Upon gaining positive identification of the SAM site, the soldier then designated the target as "hostile" and authorized a strike with the ALTIUS-600M while the software automatically re-tasked the ALTIUS ISR to conduct a battle damage assessment. This allowed for an uncontested approach of a manned UH-60 helicopter to its landing zone.
Afterward, the pilot of the UH-60 assumed tactical control of ALTIUS ISR aircraft with an Android Tactical Assault Kit (ATAK) for ad hoc tasking in the objective area.
Mission Autonomy in Months, Not Years
Anduril's open architecture software platform enables rapid insertion of new technologies, both hardware and software, within a family of systems approach that can be orchestrated at any echelon and any scale of deployment.
Additionally, the integration of Lattice for Mission Autonomy with Textron Aerosonde HQ UAS opens the door for expanding the reach and overall survivability of various crewed and uncrewed platforms. Rapidly deployable uncrewed assets with edge computing, collaborative autonomy, and intelligent networking, interoperable with crewed assets, can provide commanders with decision advantage to persist and prevail over adversaries.
Anduril and Textron Systems went from kickoff to successful EDGE23 demonstration in only 15 weeks, seamlessly molding hardware and software by integrating multiple Anduril and third-party sensors, platforms, networks, and weapons across teams of crewed and uncrewed systems operating in multiple domains. This allowed for the rapid closure of multiple kill chains enabled by mission autonomy and sensor fusion.
The advanced capabilities demonstrated at EDGE can be applied to next-generation Army programs such as Future Tactical Unmanned Aircraft System (FTUAS), Scalable Control Interface (SCI), and Launched Effects (LE).
EDGE is an annual exercise, sponsored by the Army Futures Command's Future Vertical Lift Cross-Functional Team, designed to demonstrate interoperability and new tactics, technologies, and interconnecting architectures to ensure overmatch and decision dominance in future conflicts.
Find developers of Autonomy Software and Software for Robotics, including SDK (software development kits) and robotics middleware for unmanned systems >>