TOPODRONE, a Swiss designer and manufacturer of high-precision surveying equipment, will unveil a new lightweight 360° LiDAR model range at GEO Business 2023, taking place 17-18 May at ExCeL London.
The new range includes the LiDAR 100 and 100+, which feature a 100 m working flight altitude, and the LiDAR 200+ with a 200 m working flight altitude. These can be used as a single payload for different carriers and can be installed on a drone, vehicle, or backpack.
TOPODRONE LiDAR 200+ has successfully passed field tests and has been implemented in a test mode by two European customers:
BDS Topografie conducted a surveying project in Romania to study a dam and mountain river with a very difficult terrain structure.
Atyges and Gonzalo Malvarez from the Coastal Environments research group of the Universidad Pablo de Olavide de Sevilla experimented with the combination of bathymetry, LiDAR and photogrammetry approaches to survey a reservoir in Spain.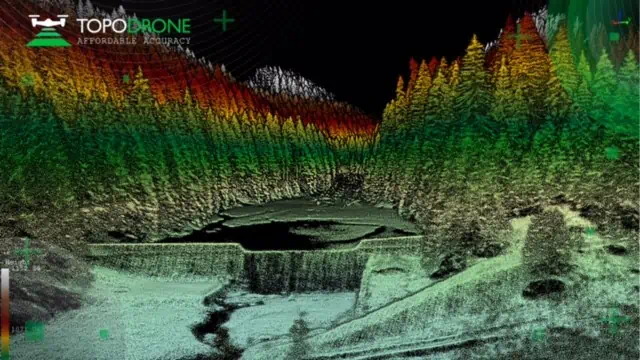 "LIDAR 200+ is a brand new R&D of the TOPODRONE team," said Maxim Baklykov, TOPODRONE CEO. "The field tests confirm a new level of accuracy and precision with an improved high performance GNSS based inertial navigation system. The compact design with a payload weight of 800 grams increases flight time and efficiency while the maximum flight altitude of 200 meters helps to perform the survey in difficult to access mountain and forest areas. The hardware is compatible with TOPODRONE Post Processing software."
To learn more about the new LiDAR range visit TOPODRONE booth G357 at GEO Business and join educational sessions:
'Synchronization of Drone & Terrestrial laser scanning – Data capturing and processing workflow' (workshop)
Speaker: Maxim Baklykov, TOPODRONE CEO
May 17, 3:00 PM – 3:30 PM
TOPODRONE booth G357
'Airborne bathymetry: Surveyors' insights' (debate)
Speakers: Maxim Baklykov, TOPODRONE CEO; Andrei Șueran, Managing Partner, Graphein; Roman Kirsanov, CEO, ERELIS
May 18, 3:00 PM – 3:30 PM
Land & Natural Resources Stage (a part of expo conference program)
To register for the event visit www.geobusinessshow.com