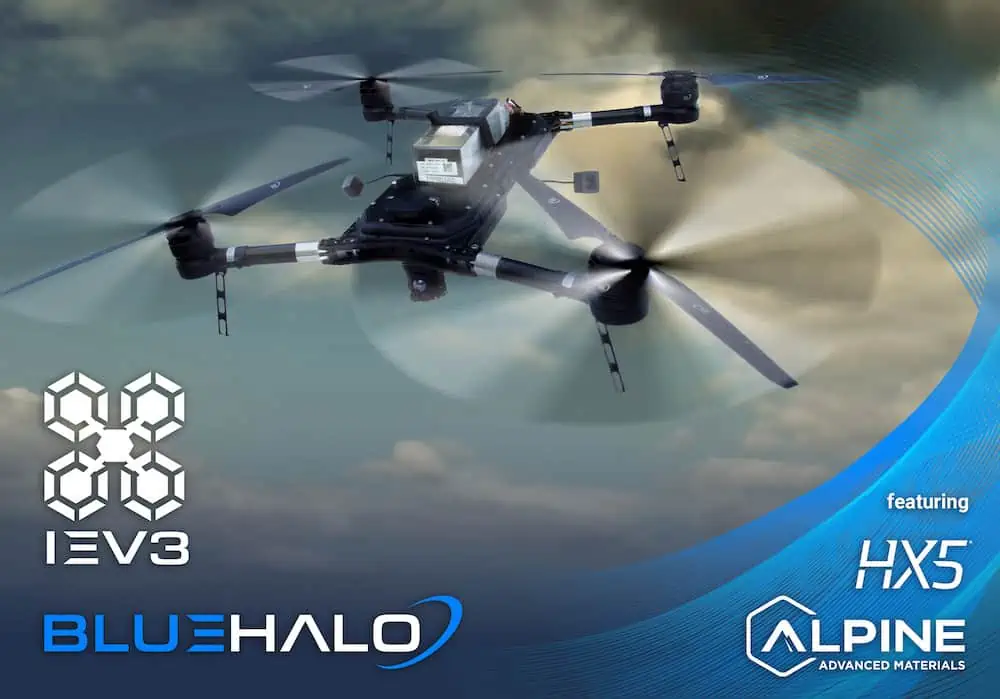 BlueHalo has launched the next generation of its Intense Eye UAS platform that incorporates an injection molded chassis using HX5, a multi-scale reinforced polymer from Alpine Advanced Materials.
HX5 has been tested and proven against harsh environments, and was engineered to replace machined aerospace-grade aluminum, making the Intense Eye UAS stronger and lighter with increased efficiency and payload capacity.
The Intense Eye UAS family is a 750-mm class 4 rotor Vertical Take Off and Landing (VTOL) UAS for dual-use in commercial and military operations. The system's software and avionics are strengthened by BlueHalo's superior Artificial Intelligence (AI) and Machine Learning (ML) technologies–providing unmatched autonomy, communications systems, and swarm logic capabilities.
"Through our strategic focus on small business partnerships, BlueHalo has worked closely with the incredibly talented Alpine team to develop a lighter, stronger, more capable UAS through injection molding engineering," said James Batt, BlueHalo Chief Growth Officer. "The next generation of our Intense Eye UAS product line features this innovative HX5 airframe in combination with BlueHalo's industry-leading autonomy and AI/ML capabilities, providing new mission-critical solutions to warfighters and expanding opportunities for our commercial partners."
"This is a victory for injection molded HX5, which is ideal for the drone industry for many reasons," added David Brantner, CEO of Alpine Advanced Materials. "Our engineering team worked closely with BlueHalo throughout the process, leveraging all of HX5's material advantages to create an innovative, tough-to-kill unmanned aerial system designed for complex battlespace environments."
BlueHalo and Alpine collaborated throughout development to optimize the frame design based on mold flow analysis to ensure optimal fiber alignment and strength in critical areas. In addition to the mechanical and environmental benefits provided by using the HX5 polymer, the injection molding process has allowed BlueHalo to accelerate production and delivery.
"Through the injection molding process and the high specific strength provided by the HX5 material, we were able to consolidate parts on a 7:1 ratio," said Mary Clum, BlueHalo Sector President and Corporate Executive Vice President. "Working with Alpine gave us the opportunity to develop an ultra-light and mechanically superior aerospace-grade thermoplastic UAS frame designed for the most capable, versatile, and high-performance applications."
The Intense Eye product line has been fully designed in partnership with US companies and small businesses like Alpine, creating an entirely US-developed and manufactured UAS system that alleviates supply chain disruptions and bolsters system security.
The software and avionics within Intense Eye Version 3 (IE-V3), BlueHalo's most recent UAS in the Intense Eye product line, were vetted and approved through the Defense Innovation Unit's Blue UAS 2.0 Cleared List. The combined capabilities of the light, strong frame with the intelligent software core and autonomous capabilities make the Intense Eye UAS an ideal solution for military and commercial operations.
The next generation of IE-V3 platforms will be the first BlueHalo UAS to incorporate the HX5 injection molded chassis. BlueHalo can modify the IE-V3 for custom applications, including autonomous swarming solutions, payload development and deployment, test targets, fire and rescue operations, atmospheric profiling, education and research, and more.