The American Conference Institute (ACI) will host the Future C4ISR Summit this June 27-28, 2023, in Washington, DC. 
The event will focus on supporting the ongoing JADC2 and AFSC efforts, with briefings on topics including the integration of the space domain, the role of cloud architectures within C2, the application of AI/ML in ISR and the role of unmanned systems within tomorrow's operating environment.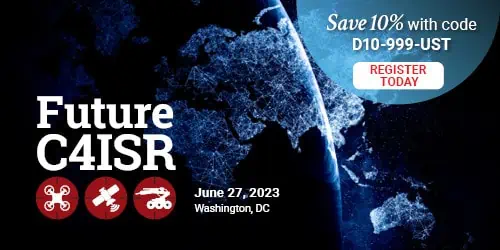 Presenters at the event include: 
Chairman: Lieutenant General (Ret'd) David A. Deptula, Former Air Force Chief of ISR, US Air Force
Lieutenant General Dimitri Henry, Director for Intelligence, J2, US Joint Chiefs of Staff
Air Vice Marshal David Arthurton, Director of Strategy and Military Digitization, UK Ministry of Defense
Major General Jim Morris, Commander Standing Joint Force Command, JFC Northwood
Major General Gregory J. Gagnon, Deputy Chief of Space, Operations for Intelligence, US Space Force
By combining discussions on all domain C4 with a traditional focus on ISR, the summit will reflect the fundamental role of the intelligence collection element in supporting decision-making from the strategic to the tactical level.
Find out more and register for the event here>

Save an additional 10% with the Unmanned Systems Technology promo code: D10-999-UST