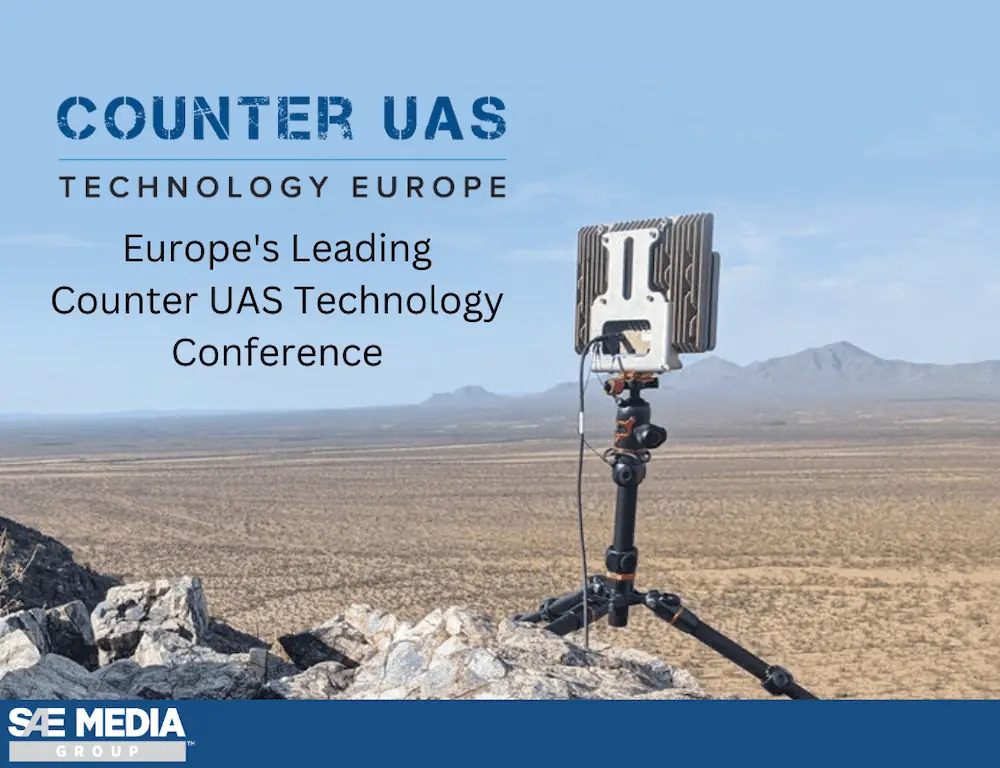 Attendees for SAE Media Group's Counter UAS Technology Europe Conference in London have been confirmed. 
The newest in SAE Media Group's portfolio of Counter UAS events, Counter UAS Technology Europe will bring together key European C-UAS program managers, policy makers, research and development experts, along with industry partners, to drive discussion on how to protect European nations from the expanding UAS threat.
Chaired by Roy Bookham, Senior Principal Consultant, Counter-UAS, Platforms Systems Division, from the Dstl, the agenda features insightful briefings delivered by key European and North American speakers, including the UK Ministry of Defence, NATO, the European Commission, US Air Forces Europe, the US DEVCOM Aviation & Missile Center, and a range of European frontline military organizations.
The conference will take place on 19–20 April 2023 at the Copthorne Tara Hotel in London, UK. Places are becoming limited with more than 200 participants already confirmed; register now>
The organizations attending next week's conference include:
Aaronia AG
AARONIA Austria GmbH
Advanced Protection Systems
AFWERX
Airtask Group
Anduril Industries
Armasuisse
Babcock International
Belgian Armed Forces
Belgian Defence
BlueHalo
British Army
Chess Dynamics Ltd
Danish Defence Acquisition and Logistics Organization
Danish Ministry of Defence Acquisition and Logistics Organisation
DE&S, UK MoD
DEVCOM-Atlantic
D-Fend Solutions Ltd
DSTL, UK MoD
Edgesource Corporation
Elbit Systems UK
ESG Elektroniksystem- und Logistik-GmbH
European Commission
Federal Ministry of Defense, Germany
Federal Police Germany
Fortem Technologies
French Air Force
IAI
IMP Castle Associates Ltd
Italian Air Force
ITOPP
John Cockerill Defense
Joint C-sUAS University
Joint Effects, Programmes Directorate, Army HQ
L3Harris Technologies
MARSOC
MBDA
Moog Defence
NATO
NATO C&I Agency
Northrop Grumman Corporation
Norwegian National Police
OpenWorks Engineering
OSL
Polish Armed Forces
Portuguese Navy
Rajant Corporation
RCMP
Robin Radar Systems BV
Rokestan Missiles Industries, Inc.
Royal Danish Defence College
Royal Netherlands Air Force
RUAG AG (Schweiz)
Saab AB
Sentry View Systems Ltd
Sentrycs
Spanish Army
Swedish Armed Forces Joint C5 School
Swedish Defence Research Agency
Swiss Centre for Drones and Robotics
Technology Innovation Institute
Thales UK
TRD Singapore
UCL
UK DSE
UK Ministry of Defence (Royal Air Force)
UK MoD
US Air Forces Europe & Africa
US Army DEVCOM
US Army DEVCOM Aviation & Missile Center
US Government
USSOCOM
Weibel Scientific A/S
XTE Ltd, plus many more.
Find out more about the event here>