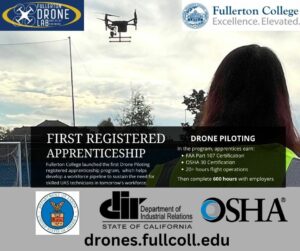 Fullerton College, California has launched the first drone piloting apprenticeship program in the United States.
The Hornet Drone Piloting Apprenticeship Program is focused on providing opportunities for underrepresented communities and developing skills for a workforce from all over the region.
The US Department of Labor and the California Department of Apprenticeship Standards have registered the apprenticeship as the flagship US college program. The Hornet Drone Lab aims to develop skilled pilots of Unmanned Aerial Systems (UAS) ready to work with partners in various industries, such as utilities, public safety, and ecology.
"This program provides a definable opportunity to help further develop the workforce of tomorrow," said Jay Seidel, Fullerton College professor and director of the Fullerton Drone Lab. "According to a recent study published in Research and Markets, the demand for drone pilots is expected to grow by 51% over the next five years."
Once accepted into the program, students complete 11 units at Fullerton College to earn Federal Aviation Administration (FAA) and Occupational Safety and Health Administration (OSHA) certifications. Then, a partnership with Friends of Fullerton College Foundation (Friends) and Hope Builders Career Connections (HBCC), an Orange County-based social enterprise staffing agency, pairs students with employment partners to complete the required 600 hours of paid on-the-job training.
The entire program, developed through the California Apprenticeship Initiative, can be completed within a year and move the new journeymen into the workforce.
"We have set the program up so a student with need can walk on campus and go from start to finish without having to pay a dime for the program," said Zoot Velasco, Executive Director of the Friends of Fullerton College Foundation. "They just need to invest their sweat equity. We see this as a potential generational change for families."
This new apprenticeship meets Governor Gavin Newsom's goal of creating 500,000 new apprenticeships in California by 2029, and introduces skilled technicians into the workforce.