Fruity Chutes is the leading developer of parachute recovery systems (PRS) for fixed-wing and multirotor drones. UST is delighted to welcome Fruity Chutes on board as a supplier partner, and we will be highlighting their unique solutions and capabilities across our channels over the next 12 months.
We've just launched Fruity Chutes' UST supplier profile, which has been written and built by our team in collaboration with the company. The Gold profile showcases their versatile and tailorable solutions, which are essential for protecting UAV equipment as well as company reputations, fostering a sense of security and trust between operators and customers.
Read on to find out about a selection of Fruity Chutes' drone parachute solutions: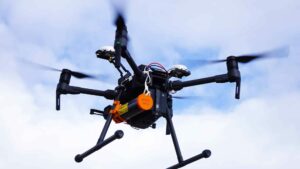 The company's user-friendly spring and CO2 ballistic launchers create separation between the propellers and the parachute to ensure safe recovery.
All parachute launchers are optimized for compact size and minimal weight. Integrating a launcher bundle adds an average of less than 5% of the UAV's weight. This allows you to ensure the safety of your drone and payload without losing flight time.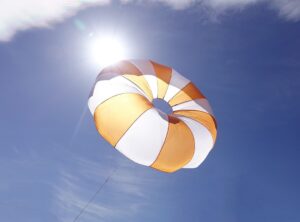 Fruity Chutes sew their fixed-wing and multirotor parachutes with high quality fabrics that meet a strict set of specifications for UAV applications. The parachutes combine high-strength calendared ripstop nylon fabric with custom-made shroud lines to optimize for the least weight at the greatest strength while minimizing packing volume.
The Iris Ultra Compact and Iris Ultralight parachute models, in particular, are designed for the demands of UAS. Fruity Chutes provides launcher bundles in which these parachutes are paired with the Harrier, Skycat, and Peregrine UAV launchers for a complete recovery solution designated for a given MTOW from 1kg to upwards of 200kg.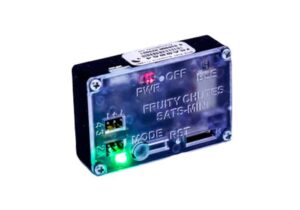 The Sentinel Automatic Trigger System (SATS-MINI) provides an unparalleled ability to quickly and reliably detect a drone failure as well as the ability to guard against false triggers, making it safe to use with high energy deployment systems that use CO2 or pyro gas ejection.
Designed for both automatic and manual remote triggering, the SATS-MINI supports many configurable features to allow tight integration between the autopilot and the SATS-MINI system. Additionally, the device can be mounted at any position or orientation on the drone.
To find out more about Fruity Chutes and their parachute recovery systems for fixed-wing and multirotor drones, please visit their profile page: https://www.unmannedsystemstechnology.com/company/fruity-chutes/