Sony Electronics Inc. has introduced a new battery station at CES 2023 and announced the development of new accessories for the Airpeak S1 multirotor drone. A new battery pack to help with longer flight time and a RTK (Real-time Kinematic) kit with base station, will be available later this year to expand operational capabilities for longer flight times and precise positioning data.
"The new Airpeak Battery Station will provide customers with fast and efficient charging to reduce downtime and help keep Airpeak flying all day," said Yang Chang, Vice President Imaging Solutions, Sony Electronics Inc. "This release in addition to our development announcement demonstrate our commitment to not only enhancing the system for aerial photographers and cinematographers but expanding the system's capabilities for industrial applications."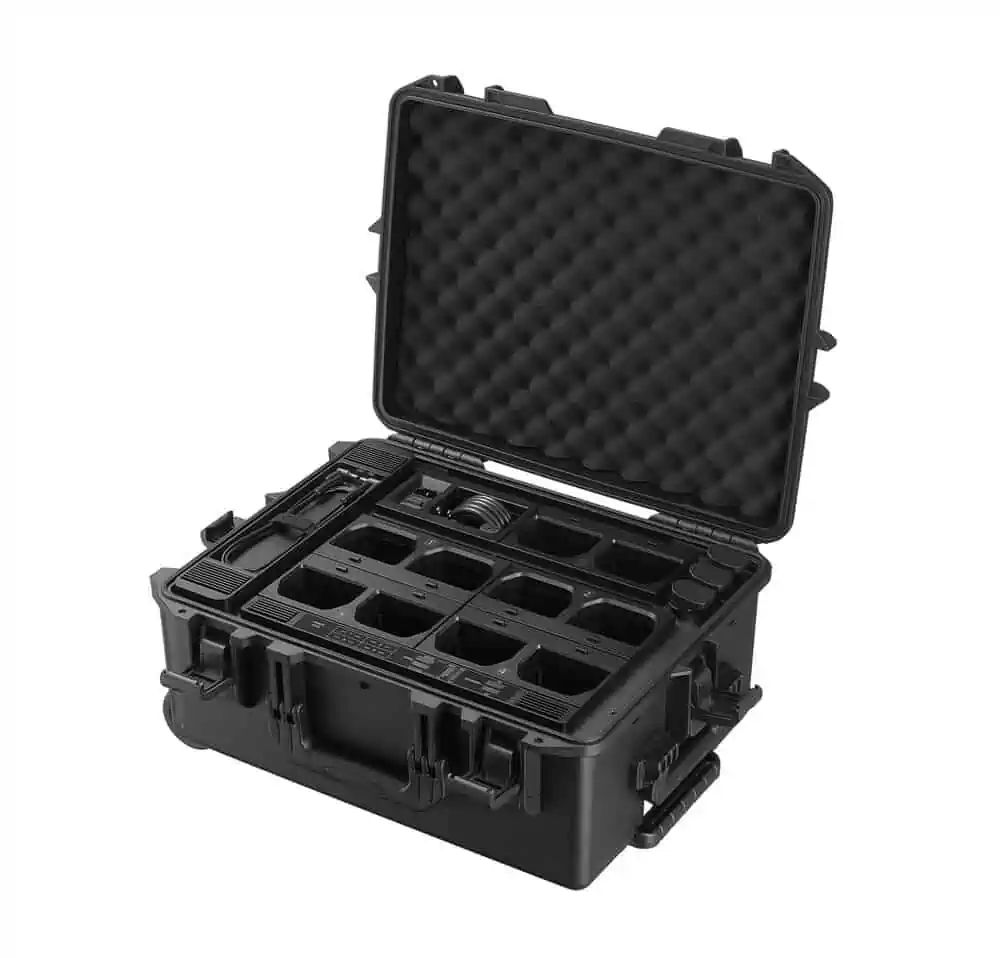 Enhanced Charging Capabilities
The new Battery Station (LBN-H1) is designed for professional drone operators flying the Sony Electronics' Airpeak S1, from film sets to industrial applications. It provides convenient storage and transportation of up to ten Airpeak S1 battery packs (LBP-HS1), while providing intelligent and fast charging for eight battery packs (charging four at a time) and discharging up to eight batteries simultaneously for transporting or extended storage.
The LBN-H1 Battery Station includes built-in charging cables for two remote controllers (RCR-VH1) and is equipped with three standard auxiliary power outlet accessory sockets that can support a variety of accessories including 12V outlets that can charge mobile devices, cameras, and other USB accessories. The accessory socket cap can also be used as a stopper to prevent the lid from accidentally shutting due to wind or other factors while using this product.
Fast charging for efficient workflow
The pack includes two charging modes based on the operator's needs. This includes (QUICK) mode, for shorter charging time, which will charge up to four LBP-HS1 battery packs from about 20% to 90% in approximately 30 minutes and (FULL) mode, which will charge up to four LBP-HS1 battery packs from about 0% to 100% in approximately 55 minutes or from about 20% to 100% in approximately 50 minutes. A built-in fan automatically cools the batteries.
Discharge mode for storage and air transportation
Up to eight battery packs can be discharged simultaneously whether the battery station power is on or off. Fifty percent (50%) mode can be used for long-term storage and will take approximately 17 hours to discharge from about 100% to 50%. Twenty five percent (25%) mode for air transportation will take approximately 27 hours to discharge from about 100% to 25%.
Size and Weight
The Battery Station comes in a robust travel case with wheels and an extendable handle. It is approximately 21 7/8 in. (553 mm) H × 16 3/4 in. (423 mm) W × 10 1/4 in. (258 mm) D (including projecting parts) and weighs approximately 33 lb 8.2 oz (15.2 kg) (Not including battery pack, power cord, etc.). It is also certified UL62368-1.
The new Battery Station (LBN-H1) will be available from January 19, 2023
Find suppliers of Battery Packs & Management Systems for Drones & UAS >>