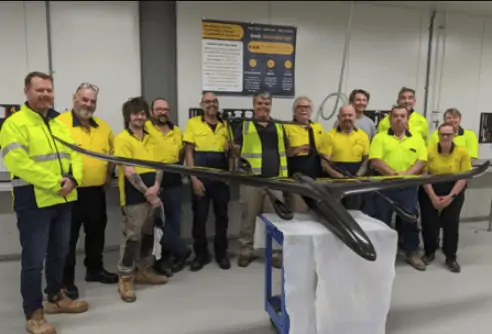 Australian drone manufacturer and solutions provider Carbonix has partnered with Quickstep Holdings, to manufacture aerostructures for its Volanti drones.
Volanti is Carbonix's smallest all electric fixed-wing VTOL UAV (Vertical take-off and landing Uncrewed Aerial Vehicle). The deal is the foundation of a broader manufacturing partnership which will, in future, include all Carbonix platforms.
Quickstep manufactures high complexity composite components for aircraft such as the F-35 Joint Strike Fighter, C-130J, F/A-18 and F-15E, working with several high-profile customers including Lockheed Martin, Boeing, Northrop Grumman and BAE Systems.
Components for the Volanti aircraft will be manufactured at Quickstep's Geelong facility, allowing Carbonix to initially fulfill an order from Anduril, the U.S. defense tech startup, that recently won a counter-drone contract from the US Special Operations Command.
Carbonix currently assembles and integrates all its UAV platforms in-house at its Sydney facility. The manufacturing deal will immediately ramp-up production of Volanti airframes. Quickstep's manufacturing processes provide scalable airframe production of Carbonix's long range platforms, and their aerospace manufacturing experience and quality management systems will deliver the high levels of quality assurance our customers expect.
"With state-of-the-art facilities in New South Wales and Victoria, Carbonix is thrilled to be partnering with Quickstep and their highly trained and enthusiastic workforce, renowned for their innovative approach", said Carbonix CEO, Philip van der Burg.
"Quickstep's global reputation for their quality and expertise in aerospace manufacturing is critical in ensuring the highest standards we expect to deliver to our customers as well as continuing our path to aircraft certification", Philip went on to say.
Steve Osborne, Quickstep Applied Composites Business Leader said "Manufacturing the Volanti aerostructure at our Geelong site is a great first step in what we look forward to being a long-term partnership across the Carbonix range of UAS. We're excited to be a core part of their export success, taking Australian built UAS capability to the world"