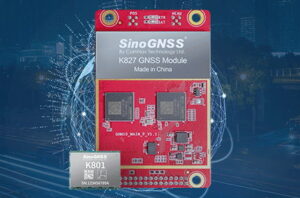 ComNav Technology has launched two new high-accuracy GNSS positioning solutions for UAVs (unmanned aerial vehicles) and robotics, the K801 module and the board-level K827.
The K801 features an ultra-low-power GNSS positioning engine, tracking signals from all current constellations and using dual-band RTK technology to achieve centimeter-level accuracy even in harsh environments such as urban canyons. The K801's integrated IMU modules, along with its advanced anti-interference technology, provide robust performance in dynamic situations.
With a low power consumption of 0.15W and small footprint of 12×16 mm, the K801 expands the existing K8 series family, offering cost-effective GNSS solutions for IoT, precision agriculture, drones and robotics.
The K827 is a high-accuracy GNSS board integrating ComNav's latest dual-engine RTK technology and providing enhanced performance in harsh environments. The system uses two independent RTK engines to process GNSS signals from all current satellites, significantly improving the robustness of the system.
The inbuilt IMU module ensures output of reliable and continuous data during loss of lock, providing users with a smooth positioning service. Designed with pin-to-pin compatibility with other mainstream GNSS boards, the K827 is easy to upgrade and to use as a drop-in replacement.