Two new state-of-the-art facilities for the in-depth study of drones and robotics will open this fall at Warren Community College, with the capacity to enroll four times the number of students in the college's acclaimed program for uncrewed systems – all while serving as an incubator and resource for businesses in the field.
In addition, Sai Sankar, an expert in robotics and supporting technology, with extensive experience in higher education and start-up tech firms, has been hired as Teaching Administrator for Artificial Intelligence and Robotics at the college, and is developing new directions for the fast-growing programs.
"Hiring Sai and expanding our program with these new facilities adds entirely new dimensions to what we can offer students. We have established ourselves as a nationwide leader in drone design, flight and maintenance – and fundamental robotics – by building a strong curriculum and graduating well-trained students who are sought after in these industries," said Dr. Will Austin, Warren's president. "Now we can expand this program to offer even better general instruction in drones and robotics but also very specific, technical training in various aspects of each field and the capacity to be a center for the latest work in the industry."
The new high-tech labs will be housed in the existing Phillipsburg Education Center, which will be renovated and expanded, and a new 5,000+ square foot facility, named the Dr. Joseph Warren Robotics Research Center. Although martyred by the British, Joseph Warren was an American doctor who played the leading role in the American Revolution. Lord Rawdon, a British commander, noted that he was "the greatest incendiary in all America," and President Ronald Reagan quoted Warren in his first inaugural address stating that he "might have been among the greatest of America's founding fathers." His spirit and legacy have guided the creation of an advanced lab suitable to train students for the emergent robotic revolution.
Learn more about the acclaimed drone training program at Warren Community College >>
Sankar explained that one of the new labs in the center will house a facility that will allow users to design, engineer, develop, test and repair almost any robotic product on the market today. "Students coming out of those programs will be prepared to program, operate and maintain these machines, which are being used in just about every segment of the economy. Trained technicians are desperately needed, and we hope to boost our enrollment dramatically within the next few years to help provide that workforce and get our students engaging, good-paying jobs."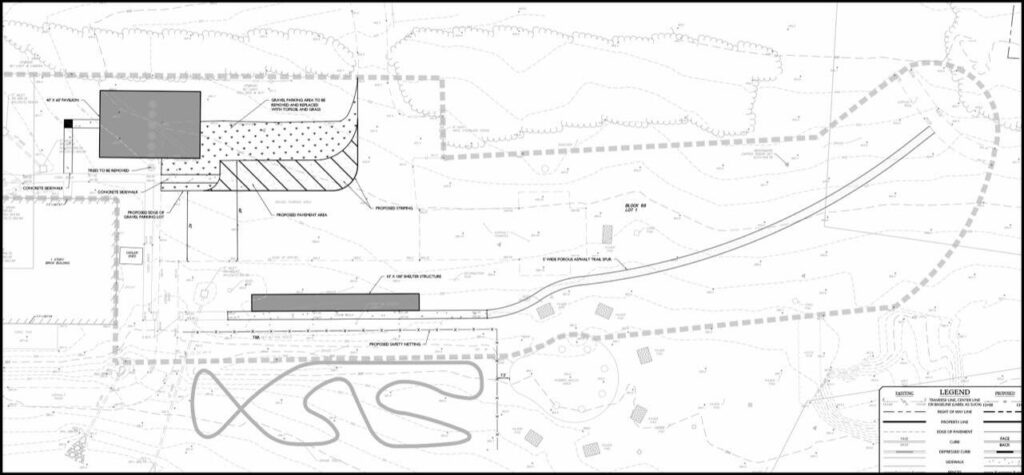 In the new center, detailed study of the design, programming and fabrication of uncrewed machines will be offered using the latest high-tech equipment. In addition, the new facility, constructed adjacent to the college's Business Development Center will serve as an incubator for entrepreneurs and a center for existing firms to engage with research and training in these fields.
"We are creating a facility that is unique on the eastern seaboard," Sankar said. "We will have the curriculum, equipment and connections to industry that eventually not only will provide unique training opportunities for our students but serve as a center for the development and testing of entirely new and cutting-edge robotics systems."
Increased specific research will be carried out in areas such as high endurance crop spraying with drones and the study and practical use of simultaneous localization and mapping (SLAM), which is critical to the independent navigation of robots. Sankar says he intends for students to learn intricate diagnostic work and electronics skills like the microscopic soldering required for chips and other circuitry the width of a human hair.
Labs in the new facility will have that equipment and seven 3-D printers, new CNC Milling centers and laser cutting machines that can create parts designed by students. "These students will be well-versed in mechatronics, the mechanics and electronics used in everything from drones and robots to advanced automated manufacturing," Sankar said. "They need to understand coding and programming, but there are also real, practical mechanical skills needed in these fields along with a solid understanding of electronics."
Austin said that funds for the expansion were in part from a Securing Our Children's Future Bond Act grant. In June 2021, New Jersey Gov. Phil Murphy, along with Acting Commissioner of Education Angelica Allen-McMillan and Secretary of Higher Education Brian Bridges, announced that Warren was one of nine community colleges in the state to be approved for the funding. The grants are intended to fund the enhancement of career and technical education in county vocational-technical school districts and county colleges.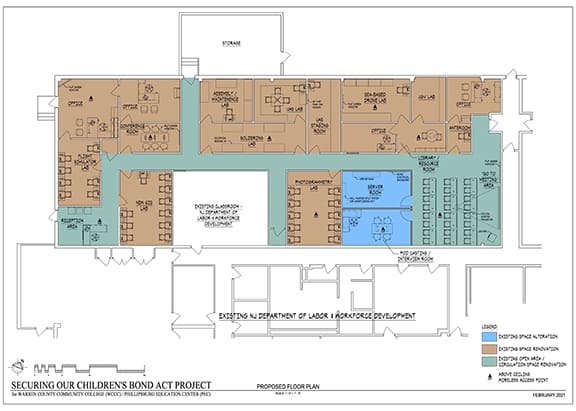 The expansion will add labs for state-of-the-art flight simulation; geographic information systems; photogrammetry; unmanned systems design & assembly; unmanned aircraft ground and sea vehicles; unmanned ground vehicles; as well as a library for uncrewed systems, a lecture hall and a facility to produce podcasts and videos. The labs will be equipped with Arduino, Pixhawk, and Raspberry pi microcontrollers for programming and unmanned systems development.
In addition to an associate degree in unmanned systems, a certificate in drone piloting, and a certificate in drone maintenance & repair, the college can now add degrees in GIS and photogrammetry, artificial intelligence, precision agriculture, and commercial space operations focused on robotics, all while expanding the internal research and development capacity of the college.
"I suspect this is the first of many significant advancements for the program," Austin said. "We have applied for millions of dollars of additional funds to continue to expand our program because we know students are interested and motivated to learn about this equipment and we are certain there will be many career opportunities. It is particularly beneficial to Warren County and the students nearby." The college has worked hard to develop pathways for students to gain skills in these growing fields of drones and robotics. It has unique relationships with Warren County Technical School (WCTS), which has been the recipient of equipment from Warren valued at over $50,000. It has meant the WCTS students have some of the latest technology for robotic education – and it's part of an effort to prepare them for matriculation to Warren.
The existing program has been praised by leaders in the industry and has gained certifications like Trusted Operator Provider (TOP, Level 3) from the Association of Uncrewed Vehicle Systems International (AUVSI), and membership in the FAA's UAS Collegiate Training Initiative. Most recently, Warren was re-certified by ASTM International as an approved UAS Training Provider (UATPP). It also is one of the few colleges in the country to have rare approval from the Federal Aviation Administration to fly drones above populated areas and fly drones beyond the visual line of sight of their pilots, two skills its students will have the unique opportunity to explore.
This year Austin also has been recognized by AUVSI, the world's leading organization for autonomous robotic vehicle systems, with its prestigious "Member of the Year" award, celebrating his work in "developing the college's internationally acclaimed training programs and supporting the fast-growing autonomous system industry". The award was announced April 28 in Orlando during the XPONENTIAL conference sponsored by the AUVSI. Other participants represented corporations and professionals from more than 60 countries working with autonomous systems in business, government, public service, military, and education. "Dr. Austin committed enormous time and resources to advancing the role of uncrewed systems in community colleges and universities," said AUVSI President and CEO Brian Wynne. "We are grateful for his work positioning the AUVSI Trusted Operator Program as a critical workforce development tool, while he pushed for significant funding to scale the program, and served as a speaker, repair and maintenance workshop organizer, and partner at XPONENTIAL."
Finally, this coming academic year, Warren is planning another major expansion of its Edward and Eileen Smith Drone Port on the Washington Campus, adding new NIST courses, expanding the drone racing course, and updating its programmatic hands-on offerings.
Learn more about the acclaimed drone training program at Warren Community College >>