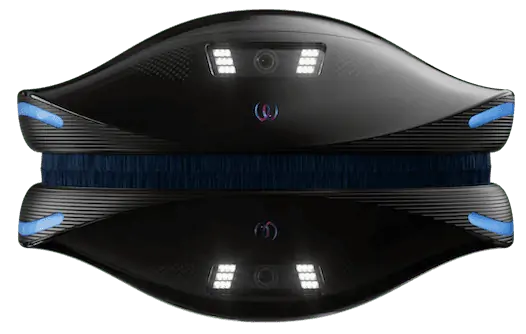 Watbots has selected Water Linked to supply underwater communication technology for a new fish cage cleaning robot. The Watbot autonomous robot has been developed to simplify and automate the net cleaning process in the aquaculture industry.
With up to 12 robots working in a fish farm at any given time, a reliable acoustic connection between all the robots and their base station is essential to allow each system to communicate natively with the base station, without signal interference created by multiple robots communicating at the same time.
Based on Water Linked's M64 modem, which has a proven track record operating in the most challenging of environments, the new CageSense solution has been developed to operate on lower power, offer increased range, have no export restrictions, and provide the highest level of dependability in a data connection – and all within a more compact package.
The first delivery of this newly developed iteration of the M64 modem, called the M16, will take place early in 2023.
Watbots carried out trials of the Modem M64 which, combined with reviewing the CageSense performance data, provided them with the assurance that Water Linked could develop a new modem that would work to meet its specific requirements.
"A robust communication is critical to our solution and working closely with a proven technology innovator such as Water Linked provides the reassurance required for this key part of our unique solution," said Håvard Lillebo, Chief Executive Officer of Watbots. "We feel this partnership will benefit both companies and reaffirm Norway as a leader in bringing exciting new technology to the underwater industry."
The M16 will benefit from the latest advances that have been integrated into CageSense and will provide the subsea industry with an acoustic modem for use in challenging environments.
The improved benefits of the Modem M16 include:
Smaller physical size
Lower power consumption
Increased range
Improved multi-modem operation
No Export restrictions
"We are all very excited to work with Watbots, a company that aims to set the next industry standard for daily net cleaning and inspection," said Scott McLay, Chief Commercial Officer of Water Linked. "This requirement has given Water Linked the opportunity to further develop our acoustic modem platform and set a new standard in robust underwater communication."
Watbots have secured an order in excess of 600 robots and will take delivery of the first M16 modems in Q1 2023.
Find suppliers & manufacturers of Underwater Communications Technology >>