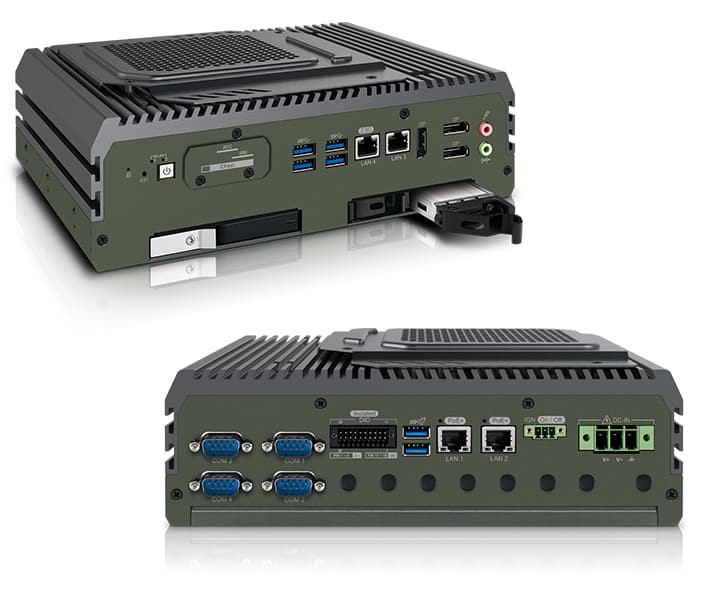 Vecow has launched a new high-performance embedded system lineup, the HPS-1000 with AMD Ryzen PRO 5000 Series processor. The rugged HPS-1000 combines workstation-grade performance, reliable connections and low power consumption to optimize enterprise deployment across a wide range of industrial applications.
With AMD Ryzen PRO 5000 Series processor featuring Zen 3 Core Architecture and integrated Radeon graphics, Vecow HPS-1000 provides accelerated performance and security features. Support for dual DDR4 memory up to 64GB and packed with reliable interfaces including 2.5G LAN, 3 GigE LAN with 2 PoE+, 4 COM, 6 USB and 16 Isolated DIO make HPS-1000 ideal for multitask computing and fulfil diverse industrial environments that need seamless management, low latency, and power-efficient.
In addition to its unique performance capabilities, the HPS-1000 comes in an advanced integration compact design, while supporting multiple expansion interfaces including M.2 Key M, 1 M.2 Key B, 2 SATA 3.0 and 2 front-access M.2 SSD tray that significantly simplifies storage upgrade process, as well as enables memory capability up to 16TB.
"Vecow HPS-1000 is based on AMD APU with Ryzen™ PRO 5000 Series processor," said Judy Hu, Product Manager, and Embedded Systems & Platform Division at Vecow. "The system leveraged the AMD Ryzen™ PRO technology with up to 8 cores and a TDP range between 35W to 65W and support TPM 2.0, which makes Vecow HPS-1000 not only ideal for real-time edge computing but also for power-efficient applications.
"We are excited to strengthen our portfolio with the addition of the HPS-1000 featuring AMD APU to our customer," said Joseph Huang, Sales Director, Sales & Marketing Division at Vecow. "We will continue to deliver innovative and diverse platforms to help customers easily deploy and facilitate their applications."
Based on advanced AMD Ryzen PRO 5000 Series processor, reliable interfaces and connectivity, support for 9V to 50V, -40°C to 70°C, Vecow HPS-1000 is designed for factory automation, in-vehicle computing and autonomous robot, any Artificial Intelligence of Things (AIoT)/Industry 4.0 applications.
Find suppliers & manufacturers of Embedded Computers for Unmanned Systems >>