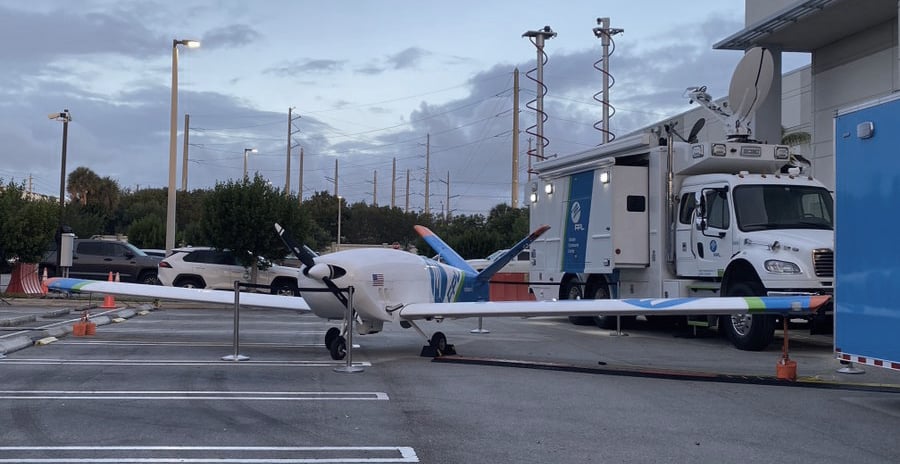 The Navmar Applied Sciences Corporation (NASC) Teros™ UAS and Mobile Operations Center have been used by Florida Power & Light Company (FPL) in an intensive annual storm drill designed to test response to a simulated hurricane.
30 years since the unprecedented destruction of Hurricane Andrew and five years since Hurricane Irma, two historic storms that serve as stark reminders of the importance of storm preparation. During the simulated exercise, Hurricane Constantine, a mock Category 3 storm made a simulated landfall near Panama City.
As part of the exercise, FPL showcased innovative technology used to assist with storm restoration, including the NASC Teros™ which can be used to assess damage safely and quickly after a storm and can often reach areas inaccessible to crews on the ground. The company's new FPLAir One fixed-wing drone (the NASC Teros™) is expected to begin serving customers later this year. The drone, the size of a small aircraft, can fly up to a thousand miles without needing to refuel, gathering real-time information and identifying the causes of outages.
The NASC Teros™ is a Group 4/5 UAS designed to be operated and fully integrated into the National Airspace System. The MALE (medium altitude long endurance) UAV is suited to a vast array of applications and features robust construction and durability without sacrificing its lightweight design. With short takeoff and landing capability, fast field assembly, rapid servicing, and autonomous flight operation, Teros is a highly versatile and highly capable aerial platform.
Teros can fly the programmed mission autonomously and seamlessly within the air traffic control system and achieves an exceptionally high level of Availability, Reliability, and Maintainability (ARM).
"FPL learns from every storm, and the milestone anniversaries of Andrew and Irma remind us that we must always look for innovative ways to approach how we restore power and serve our customers," said Manny Miranda, executive vice president of FPL power delivery. "Today, we can respond to hurricanes better than ever as a result of the lessons we've learned from previous storms and the improvements we've made, using advanced technologies and the experience of our team."