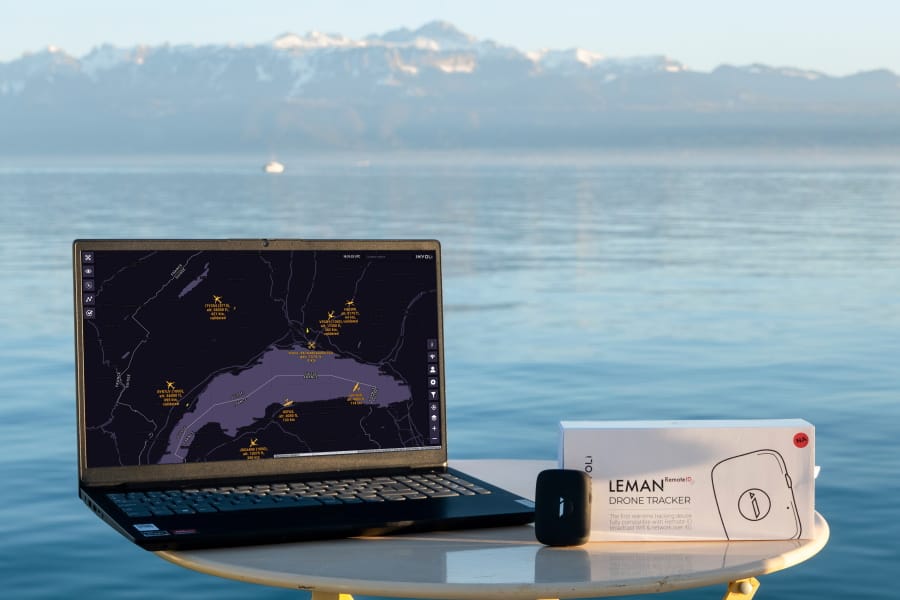 INVOLI has launched the Leman RemoteID, a new CE/FCC-approved drone tracker that has been specifically designed to allow drone operators to fly safely while complying with the latest regulations around the world.
The Leman RemoteID drone tracker is simple to use and does not need to be connected to the drone's battery to operate, beginning position transmission straight away after turning it on. The tracker is lightweight (47 g), resistant to rain (IP67), and has a battery life of 4 hours and 30 min with a refresh rate every 1 second, making it ideal for a wide variety of drone operations.
INVOLI's goal is to make it easy for drone operations to be carried out in compliance with the ever evolving regulatory frameworks. The new INVOLI drone tracker has been developed to follow the ASTM Remote ID Standard F3411-19, and thus it complies with the FAA Rule on Remote Identification for UAS (unmanned aerial systems) and with the Commission Implementing Regulation (EU) 2019/947.
The new INVOLI RemoteID drone tracker transmits the position and identification of the drone in two ways: direct broadcast over Wi-Fi (Remote ID Broadcast), and over 4G networks (Network Remote ID), with separate versions for European and North American 4G bands.
The Leman RemoteID Drone Tracker can also be adopted at governmental level, by ANSPs (air navigation service providers), by UTM (unmanned traffic management) services for large scale drone operations, and by telecommunication companies for evaluating the connectivity of their 4G infrastructure in the sky. The device provides geolocalized connectivity information (Cell ID, RSRP, SINR and Band), allowing creation of charts of the connectivity quality in the sky.
Manu Lubrano, CEO of INVOLI, commented: "It is a great challenge to transform regulatory requirements into a technical product, but we want this burden to be on our company instead of being on drone operators: I strongly believe that drone operators should focus on their operation and their core business, and the regulatory part should be handled as easy and elegantly as fastening your seatbelt in your car. Installing the Leman RemoteID drone tracker makes your drone compliant to new regulations with one push of a button."
Tristan David, Business Development Manager at INVOLI, stated: "Many drone operators have multiple drones from different drone manufacturers. With our Drone Tracker it is possible to follow all of them at the same time over the INVOLI.live platform, simplifying enormously the operational side of managing a fleet of drones."