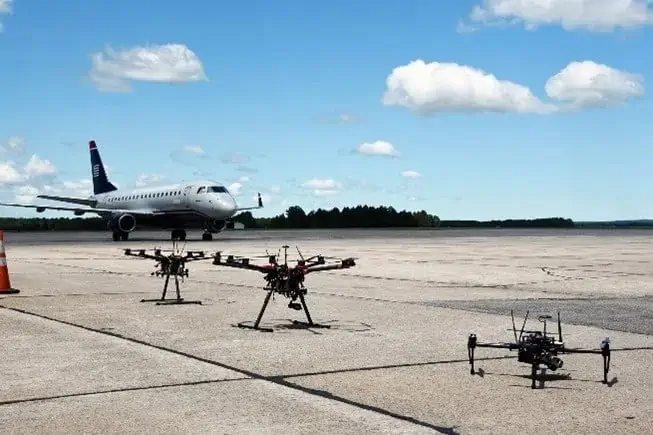 Sagetech Avionics has confirmed that it has partnered with NUAIR (Northeast UAS Airspace Integration Research Alliance) to test Detect and Avoid (DAA) solutions and Automatic Dependent Surveillance–Broadcast (ADS-B) transponders for UAS (unmanned aerial systems) for a variety of applications that will involve manned and unmanned aircraft sharing the same airspace. These applications include package delivery, lateral infrastructure inspection, and other advanced operations.
Testing will take place in Syracuse, New York. The partnership will also focus on the integration of various detect and avoid technologies and non-cooperative sensors, utilizing the robust LTE network at the New York UAS Test Site and within New York's 50-mile UAS Corridor developed specifically for a wide variety of UAS operations.
Sagetech is leveraging its long-standing reputation in safe and reliable ADS-B transponders to bring the most advanced certifiable, onboard detect and avoid system to market. The Sagetech onboard DAA solution will include a full power, low size, weight, and power (SWaP) solution made possible by the company's onboard ACAS DAA computer.
Mark Lanphear, Sagetech's Chief Growth Officer, commented: "Sagetech is excited to work with NUAIR and its partners to perform live testing and demonstrations of DAA. We expect to be able to demonstrate our situational awareness and onboard DAA capabilities with NUAIR and their current and future partners to support NUAIR's efforts in demonstrating BVLOS capabilities in the corridor."
Ken Stewart, CEO of NUAIR, stated: "Detect and Avoid technology is a key aspect in enabling safe, commercial, beyond visual line of sight drone operations. Safety is paramount, and we're excited to help test and further develop the Sagetech DAA system to help advance the reality of routine commercial drone operations."