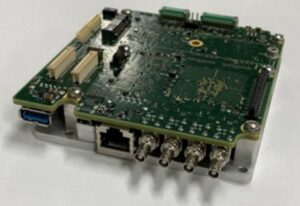 Vision4ce has developed the CHARM-100NX, a video processing solution for UAVs (unmanned aerial vehicles) and unmanned systems that provides a range of advanced video tracking and image processing capabilities and supports low-latency video streaming.
The ARM-based embedded system hosts Vision4ce's proprietary DART (Detection and Acquisition with Robust Tracking) video tracking software. The low-SWaP (size, weight and power) hardware measures just 100 x 100 x 20mm, making it ideal for space- and weight-constrained drones and robotics.
The CHARM-100NX captures multiple video inputs (from analog video to 3G-SDI), and encodes and streams them using RTSP or MPEG-TS with delays of less than 40ms (2 frames). Video capture and streaming can be combined with video processing functions such as multiple object tracking, classification, stabilization and image fusion to provide a flexible and powerful image processing sub-system.
To find out more about the CHARM-100NX video processing solution, visit the product page on Vision4ce's website.