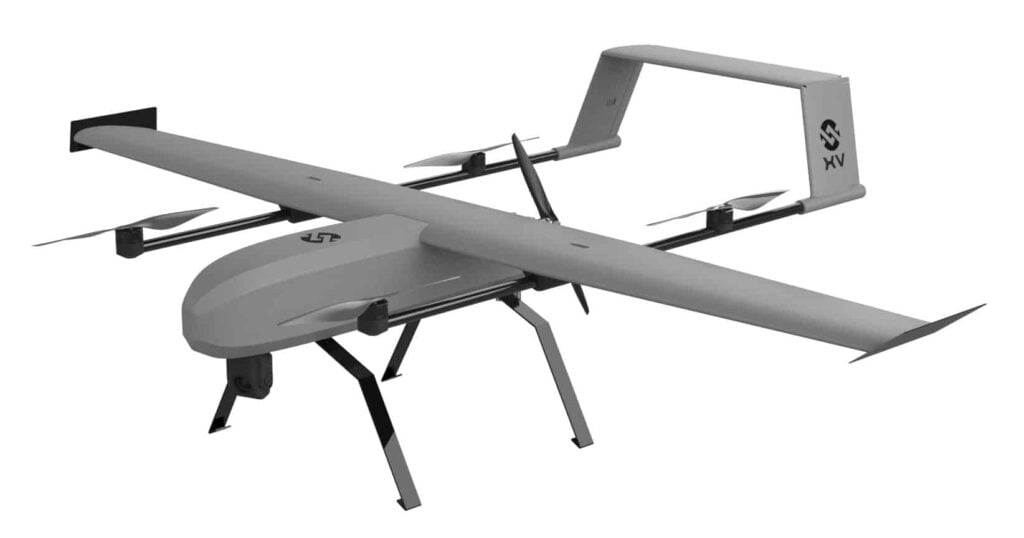 Plymouth Rock Technologies (PRT) has confirmed that it has received an order from the UK's Norfolk Police Constabulary for a UAS (unmanned aerial system) that will be used for beyond visual line of sight (BVLOS) operations.
PRT's XV-H fixed-wing VTOL UAS has been designed to undertake land and maritime operations at extended BVLOS distances, with a flight endurance of up to 4 hours and the ability to land in a very small area on land or on a ship. The platform provides unlimited communications range due to being equipped with the latest SATCOM (Satellite Communication) technologies, and is also equipped with COFDM (Coded Orthogonal Frequency-Division Multiplexing) communications technologies for secure, high-quality data feeds.
The UK National Police Air Service (NPAS), which currently provides air support to 46 police forces, is leading the Home Office funded research to "better understand the capabilities that Beyond Visual Line of Sight (BVLOS) drones may provide to police aviation in the future".
In a statement it said: "The project will not only consider drone types, but also command and control and hazard detection systems, to ensure compliance with Civil Aviation Authority (CAA) regulatory policies and procedures."
Nick Davison, assistant chief constable, commented: "Drones are proving to be excellent in terms of seeing what is going on in really large expanses of rural areas in Norfolk where there is limited population and drones are one of the best ways to get ourselves out and be visible."
He added that the pilot program will see significant funding with the constabulary "testing with the CAA partners and others how the police service as a whole might be able to continue to expand the use of drones beyond what the currently legal parameters are."
Carl Cagliarini, Chief Strategy Officer of Plyrotech, noted: "At this stage, we are bound by non-disclosure covenants on the exact details of this contract. What we can say is that we at PRT are deeply honoured to be awarded this contract for our safe and capable aircraft. We look forward to working with various UK police forces and training their pilots to use the technology."
"The multiple capabilities and benefits of autonomous systems are compelling, and we believe this will accelerate the ultimate goal for the widespread adoption of BVLOS capable aircraft by UK Police. The aircraft will carry the latest SATCOM technologies as well as high-grade transponder and anti-collision capabilities. The project will be managed and maintained at our Norfolk and Lincoln facilities in the UK."