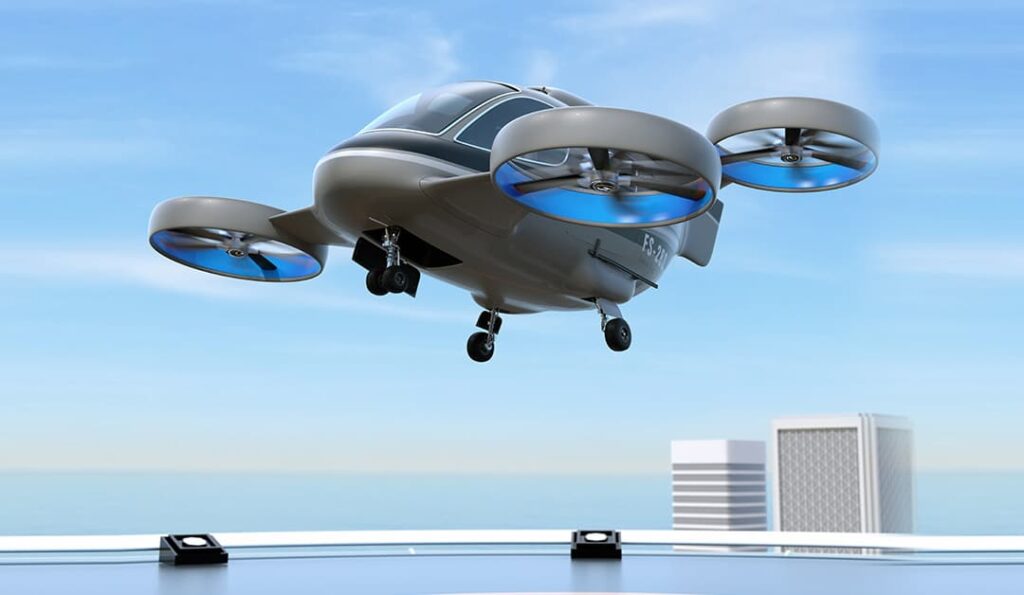 Ramco has released the following article highlighting how ERP (enterprise resource planning) software can play a vital part in the emerging eVTOL (electric vertical take-off and landing) UAV (unmanned aerial vehicle) industry.
eVTOL technology for the air mobility market is growing in leaps and bounds, and is well on its way to being viable for the public. eVTOL vehicles, which can take off from a very small footprint without the need for a runway, have the potential to alter the global air traffic environment.
From a technology perspective, ERP software stands at the centre of rapid development in the eVTOL and UAV space. The regulatory environment is getting tighter, and the industry shows a combination of innovation and maturity. According to a study by Markets and Markets, the global market for eVTOL aircraft is estimated to be USD 8.5 billion in 2021 and is projected to reach USD 30.8 billion by 2030, at a CAGR of 15.3% during the forecast period.
The air mobility industry is growing while still experiencing innovation in a variety of different forms. These include lift technologies (vectored thrust, multirotor, lift plus cruise), and propulsion types (fully electric, hybrid electric, hydrogen electric).
Reliability drives success, and this is why safety innovations are also necessary. The accuracy of data acquisition is also another vital area to consider. To make UAVs and eVTOLs operate successfully, it is necessary to build supportive platforms and for this, ERP software is necessary. ERP helps develop a supportive ecosystem that will be reliable and can show the data to prove it. ERP at Ramco covers a wide range of functions in aviation, ranging from manufacturing, supply chain, flight operations, maintenance, customer and contract management, finance, and reporting.
The industry relies on the use of technology for accurate predictive data to drive key decisions. IT in the aviation industry has historically consisted of siloed processes that were unable to provide real time information due to lack of integration and coherence. The UAV/ eVTOL industry has the unique opportunity to overcome these issues by taking a clean slate approach and looking at the ecosystem holistically.
A company such as Ramco can fill the gaps between IT and aviation by providing actionable, real-time and accurate data. ERP software can be used to pitch to investors, giving them the confidence of being able to support customers over long terms. Companies often advertise how well they're able to provide predictive data, and this can only happen when maintainability, reliability, and data acquisition are integrated into ERP. As a result of the ERP, data acquisition becomes part of the supply chain system as well.
Trends seen in the UAV/eVTOL industry include:
Prompt movement of people during emergencies as well as cargo
The use of an innovative hydrogen-powered engine
UAVs that are suited for outdoor operation and can fly at a tolerable altitude are used for catastrophe-based impact studies
eVTOLs can be used as air taxis for easing traffic congestion
Enhanced levels of safety and efficiency is achievable through the use of UAVs
Data management has become easier by leveraging Artificial Intelligence and machine learning – technology departments leverage behavioural analysis and prediction to simplify data entry and train the model to arrive at intelligent predictions.
The key obstacles currently faced by the eVTOL service market are:
Maintaining safety standards to achieve user confidence
Ensuring the revenue required to make the business profitable
Meeting regulatory standards
Keeping up with technology trends in this space
There has never been a better opportunity for entrepreneurs and R&D teams to enter the race to develop more sustainable, innovative solutions. ERP solutions such as Ramco's are hugely beneficial for monitoring and accessing data with respect to eVTOLs.