DRONAMICS will unveil the first production unit of its full-scale Black Swan Unmanned Aerial Vehicle (UAV) during a live streamed event from the runway of Sofia Airport, Bulgaria.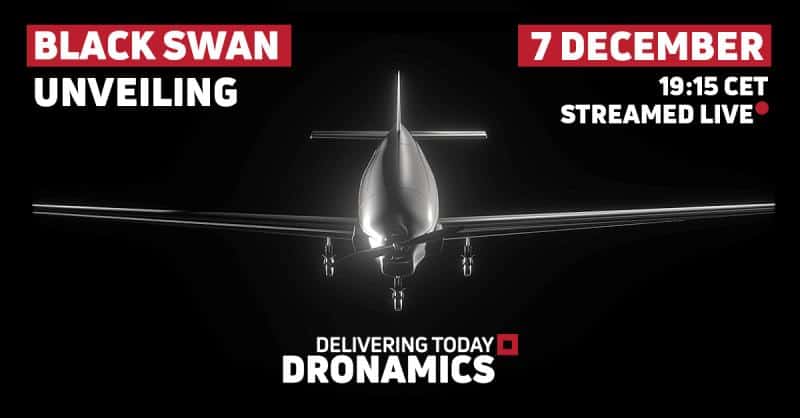 At 19:15 CET on the 7th of December, 2021, DRONAMICS will reveal The Black Swan – an advanced unmanned aircraft that has been designed to be the most fuel-efficient cargo aircraft ever built.
The Black Swan aircraft is able to carry up to 350kg of cargo at a distance of up to 2,500km at up to 80% lower cost than any other aircraft. It can operate from runways as short as 400 meters, unpaved, and will enable DRONAMICS to serve customers in even the smallest and most remote communities.
"For more than 100 years people have designed airplanes for humans first, meaning they were never really optimized for cargo, and in fact, they're quite inefficient," said Konstantin Rangelov, co-founder and CTO, DRONAMICS. "By being extremely focused solely on carrying cargo, we were able to develop an aircraft that is able to do the job at up to 80% lower cost than any other airplane, meaning we can bring the benefits of aviation to billions of people around the world who do not get regular air service."
The company wants to eliminate the need to choose between low-cost road freight, that can take days to deliver, or fast air freight that is expensive.
"The unveiling of the Black Swan represents a critical milestone in the company's mission to enable same-day shipping for everyone everywhere," said Svilen Rangelov, Co-Founder & CEO of DRONAMICS. "The years of hard work are paying off and as soon as we're done with our extensive test program and obtain certification in 2022 we are going to begin commercial operations, serving customers in Europe and beyond years ahead of everyone else."
DRONAMICS plans to roll out a global network of droneports allowing the Black Swan to provide the missing 'middle mile' in air freight. Whether ferrying vital supplies between islands or delivering critical spare parts deep into a country, DRONAMICS will link towns and cities around the world. Able to run on 100% sustainable aviation fuel, Black Swan will do so in a more environmentally friendly manner than previous aircraft, enabling global partners like DHL and Hellmann Logistics to serve their customers in the fastest and greenest way possible.
Find suppliers & manufacturers of Cargo Drones & Delivery UAV >>