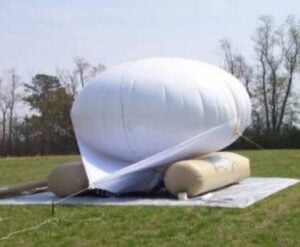 Carolina Unmanned Vehicles (CUV) has confirmed that it has supported the Naval Information Warfare Center (NIWC) by providing its Small Tactical Multi-Payload Aerostat System (STMPAS) for a project that aimed to develop assured tactical communications by employing an unmanned aerial system (UAS) with a communications surrogate payload.
The support provided by CUV encompassed an integration test at NIWC Atlantic in Charleston, SC; a system demonstration at Camp Lejeune in Jacksonville, NC; and a system demonstration at NIWC Pacific on San Clemente Island, CA. The latter two were in conjunction with Advanced Naval Technology Exercise (ANTX) and the Trident Warrior Exercises.
STMPAS is a mobile trailer-mounted tactical aerostat designed for missions such as persistent 24/7 Intelligence, Surveillance and Reconnaissance (ISR), border surveillance, and post-disaster emergency communications. It can maintain continuous BVLOS communication to low altitude UAS at extended ranges.
The San Clemente testing, conducted on a remote cliff overlooking the Pacific, demonstrated STMPAS' ability to operate in austere environments. Everything required for the weeklong testing was carried on the platform and its Ford F150 tow vehicle.
Previous versions of STMPAS have been deployed by the U.S. Army to provide ISR capability for small tactical units in Afghanistan. The current version of STMPAS provides improved launch timeline and allows movement of the system with the Helikite inflated atop the trailer. The Department of Commerce has approved the basic STMPAS equipment for export.