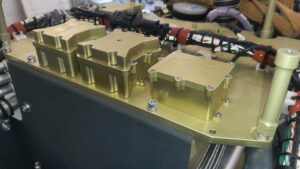 UAVOS has launched a next-generation autopilot for UAS (unmanned aerial systems) featuring enhanced control algorithms for navigation and stabilization, processor upgrades, and an updated interface to the company's Portable Ground Control Unit. The upgraded system features a significant overall boost in speed and processing capacity, with improved longevity, support and integration.
The UAVOS family of autopilot systems has to date flown around a thousand flight hours on a variety of UAV platforms such as the Saker Medium Altitude Long Endurance (MALE) UAV, the HiDRON stratospheric glider, the ApusDuo high altitude stratospheric platform (HAPS), a range of manned aircraft converted into drones, and fully autonomous unmanned helicopters.
Based on a distributed architecture, UAVOS' flight management system consists of the autopilot, a ground station, a simulation environment and operator interface software, supporting fully autonomous flight operations for complex UAV platforms.
Updates to the autopilot firmware include:
Upgraded control algorithms for increased flight control precision and accuracy. For example, the deviation from waypoint navigation is estimated to be not more than 2×2 meters (without using Real-time Kinematic Positioning mode).
Bandwidth of up to 8 KHz for primary loop controls (stabilization), and 100 Hz for outer loop controls (navigation). The update rate is adjusted automatically, based on available sensor data rate.
Navigation accuracy in GNSS-denied environments has been increased, and is estimated to be around 2 to 3 km per flight hour.
Aliaksei Stratsilatau, CEO of UAVOS, commented: "We are pleased to provide our reliable software solution for unmanned platform control. The next-generation autopilot reflects UAVOS' determination to continue investing in industry-leading technology while becoming more competitive."