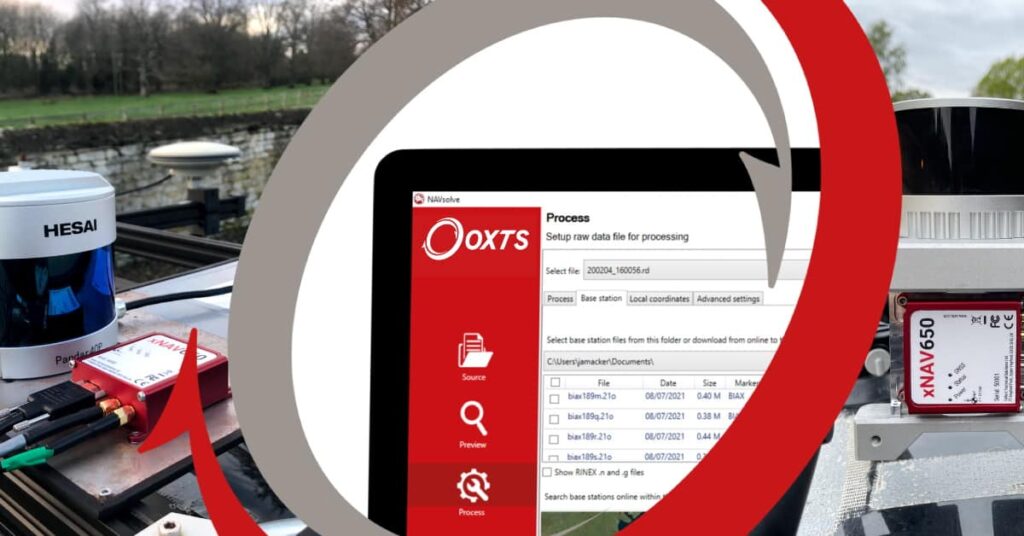 OxTS has launched Version 3.3 of NAVsuite, the company's free post-processing software that allows users of OxTS Inertial Navigation Systems (INS) to configure, monitor, post-process and analyse their data. The new version includes the addition of a new PTP Graphical User Interface (GUI), RINEX 3 base station support and several other updates that improve the overall usability of the software.
The software suite includes 5 key applications:
NAVconfig allows users to configure their INS to ensure they get the best possible data.
NAVdisplay enables OxTS INS customers to 'see what their INS is seeing' and monitor their data in real time.
NAVsolve customers use the application to quickly and easily post-process their data.
NAVgraph allows users of OxTS INS devices to read and analyse data in graphical form – ideal for troubleshooting.
NAVbase customers can configure their RT-Base S or a GPS-Base and check the status of their base station, the number of satellites it can see
and consequently its known position.
What's new in version 3.3?
PTP Graphical User Interface (GUI)
OxTS INS devices utilise Precision Time Protocol (PTP). PTP allows for simple set-up over ethernet with compatible devices. Version 3.3 of NAVsuite includes a PTP GUI in a dedicated tab within NAVconfig. The new PTP GUI makes it easier for users to configure PTP settings. This new addition further speeds up test or survey set-up time allowing users to focus more of their time on producing the best possible data.
RINEX 3 support
NAVsuite 3.3 addresses one of the key technology changes in recent times by adding support for RINEX 3. With RINEX 3 starting to replace RINEX 2 in many base stations, this update to NAVsuite means that users of OxTS INS devices will be able to keep on using corrections from their preferred base stations.  In addition, supporting RINEX 3 significantly increases the number of base stations available.
Learn more about NAVsuite 3.3
OxTS is hosting a free webinar that will provide users with more information about NAVsuite 3.3 and the software that guides OxTS INS technology.
During the webinar, which is taking place at 14:00 hrs (GMT) on Monday 22nd November, OxTS Product Engineer Robert Gough will give users a unique insight into the applications within NAVsuite and explain what the updates in version 3.3 mean for customers.