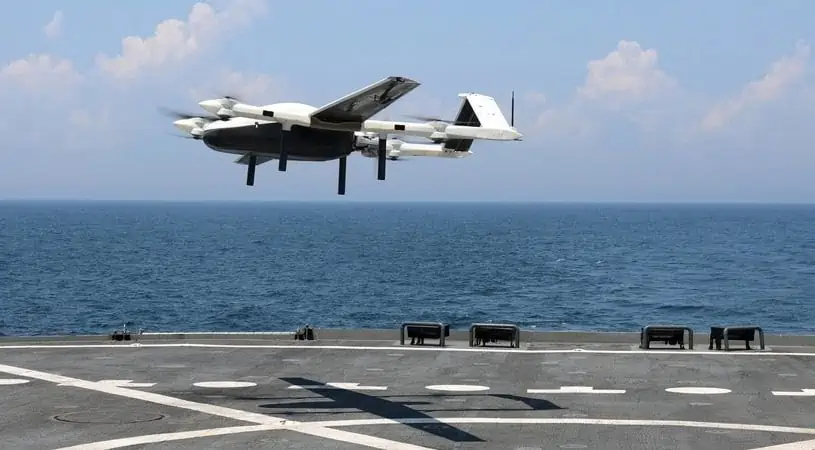 Orbital UAV has entered into an agreement to provide unmanned cargo transport specialist Skyways with a heavy fuel engine that will be integrated into a prototype UAS (unmanned aerial system) for flight testing. Skyways is developing the prototype for the US Navy's Naval Air Warfare Center Aircraft Division (NAWCAD), in order to demonstrate long-range naval ship-to-ship and ship-to-shore cargo transport.
The project requirements involve the demonstration of potentially viable commercial platforms that could autonomously transport a 20-pound (~9kg) payload to a moving ship 230 miles (~370km) away without refuelling. Of over 65 UAS platforms analysed, NAWCAD selected the Skyways Group-3 UAS platform for further testing and evaluation.
The United States Naval Air Systems Command (NAVAIR) are investing in unmanned air systems capability and evaluating applications where naval cargo transport requires vehicles that can successfully operate through difficult environments that include heavy winds, open water and pitching vessels at sea. Historic data from US Navy casualty reports show that warships that move to non-mission capable or partially mission capable status often do so due to logistics-related issues like electronics parts or assemblies – 90 per cent of which are logistical deliveries weighing less than 50 pounds (~23kgs). Transportation of these supplies is currently undertaken by tactical aircraft like the H-60 helicopter and V-22 tilt-rotor aircraft, and UAS are seen as a more efficient and cost-effective solution.
Once Orbital UAV has delivered the heavy fuel pre-production engine to Skyways, it will be integrated into the UAS for extensive flight testing, before being returned to Orbital UAV for evaluation.
Todd Alder, CEO and Managing Director of Orbital UAV, commented: "Working with Skyways represents an exciting new development within the unmanned market for the Company. Skyways has established itself at the forefront of unmanned cargo transportation for the US Navy – a growing and critical requirement within the service. Skyways continues to develop its platform to meet challenging requirements, including the platform's ability to run efficiently on heavy fuel."
Charles Acknin, CEO and founder of Skyways, said: "Since being selected by the US Navy last year, we're continuing to develop our offering to ensure we meet the rigorous demands of ship-to-ship and shore-to-ship logistics."