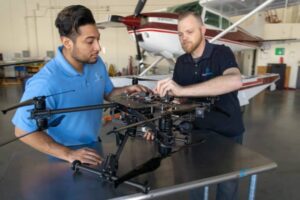 Robotic Skies has confirmed that it has received new strategic funding from Hearst Ventures for the continued growth and product development of its maintenance and repair network for commercial unmanned aerial systems (UAS) and advanced air mobility (AAM) aircraft.
Robotic Skies' expansive international network of repair stations has positioned the company to respond to the forecast volume of commercial drones and advanced air mobility aircraft that will require certified maintenance support. The Robotic Skies field support infrastructure currently includes over 235 independently owned and operated FAA Part 145 repair stations, and their equivalents outside the USA, to serve customers across 50 countries.
The Robotic Skies business model is shaped by the direction of commercial drone policy and legislation in the United States and of other Civil Aviation Authorities worldwide toward requirements for certified maintenance solutions that ensure safety and ongoing airworthiness of unmanned aircraft. CEO Brad Hayden has been appointed to the FAA Drone Advisory Committee to help develop strategy for the safe integration of drones into the National Airspace System.
Brad Hayden, Founder and CEO of Robotic Skies, commented: "Hearst Ventures is a powerful partner for Robotic Skies. We are joining the robust ecosystem of Hearst's investment portfolio — companies that are leaders in the high tech, artificial intelligence, and drone markets. We are proud to be counted among these industry innovators."
David Famolari, Managing Director at Hearst Ventures, said: "We're excited to support Robotic Skies' mission to be the maintenance network for the next generation of aviation. Aviation is witnessing a Cambrian explosion of innovation and use cases across manned and unmanned platforms with the potential to introduce orders of magnitude more certified aircraft at orders of magnitude lower cost."
"Much as cheap ubiquitous PCs signaled a transition from the mainframe era and created the modern IT support industry, these next generation aircraft signal a similar transition within the aviation maintenance industry. Robotic Skies is working with the aviation community of regulators, standards bodies, service centers, manufacturers and operators to adapt, scale and distribute certified maintenance and support for next-generation aircraft across the globe."