AutoSensONLINE is streaming live online on Tuesday 23 November 2021
AutoSensONLINE is being delivered virtually to wrap up 2021 by building on themes from the in-person Brussels conference and previous online events. Bringing together further key topics in this disruptive time for the automotive industry. Addressing technical challenges across ADAS and AV development is an overarching theme of AutoSensONLNE and participants will takeaway insights from both presentations and panel discussions to help them deal with their own engineering challenges they might encounter.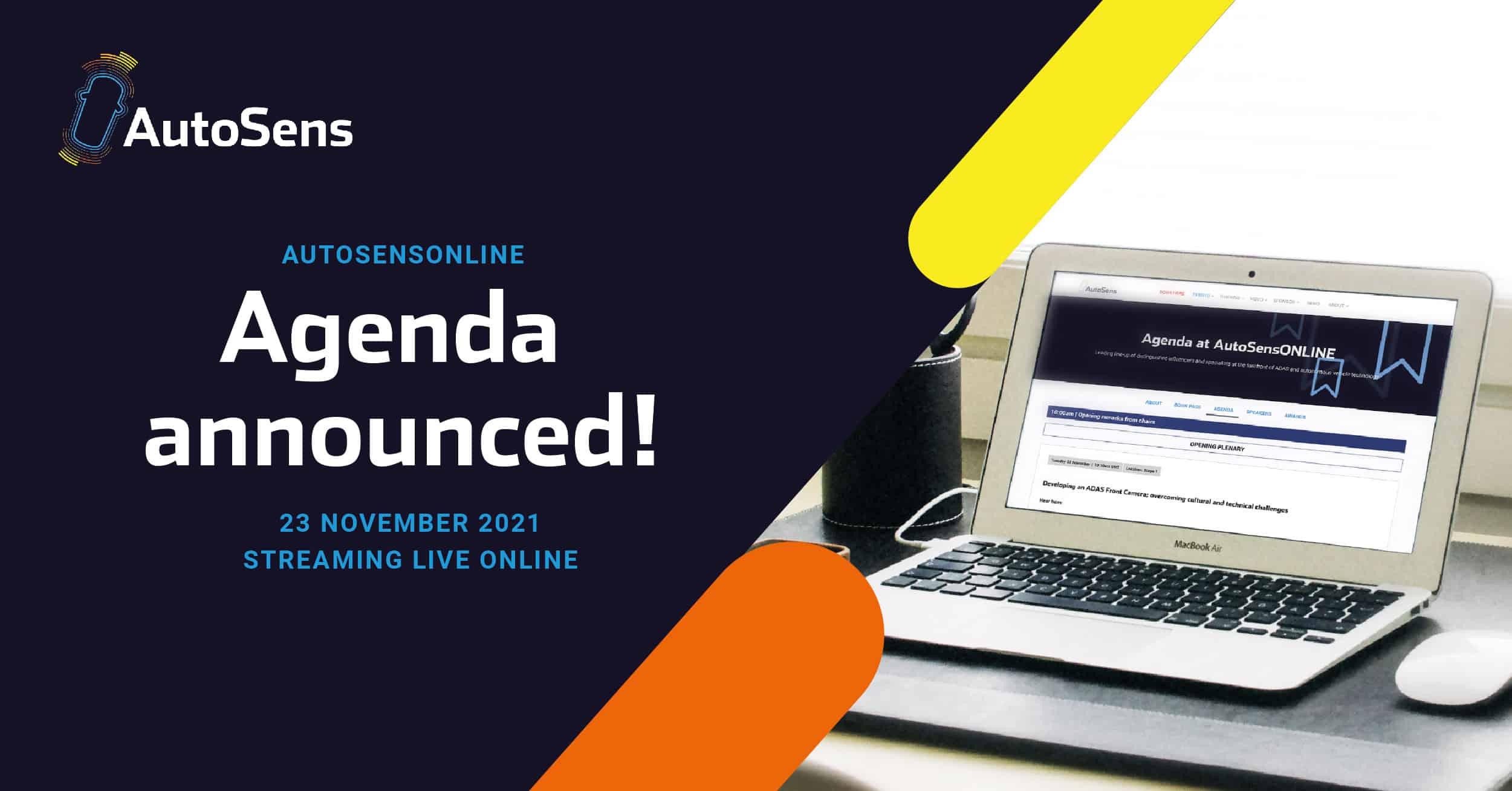 The online 1-day event will be packed with content and live streamed with a brand new 2-track agenda of expert panels, technical case studies and discussion. View Agenda >>
The 7 core themes being discussed in-depth include:
Innovations in RADAR
Benchmarking Perception Methods
Computer Vision and Deep Learning
Improving Sensing in Challenging Environments
Manufacturing Considerations and Reliable Software Standards
Addressing Complexities in ADAS Development
Overcoming HD mapping challenges
You will hear from industry leaders Daimler and LG, providing the Tier 1 and OEM perspectives on developing a front ADAS camera and overcoming technical challenges.
Another critical challenge is one when the same image sensors are used for both computer and human vision. Matthew Hellewell, Principal Image Quality Engineer at Arm, will explore how we can avoid sacrificing image quality for flexibility in our hardware choices and software algorithms.
Speakers, who were unable to join the Brussels conference, will be given the chance to share their perspectives with the AutoSens Community. This includes Dima Sosnovksy from Huawei and Dengxin Dai at MPI for Informatics discussing different takes on benchmarking perception methods, plus Sergey Velichko of onsemi sharing their developments in HDR image sensors.
Three case studies from different levels of the supply chain form a technical session on RADAR. Various perspectives from GM, Bosch and new to the AutoSens Community, Zendar, will be heard on creating high resolution radar and developing superior radar and processing systems.
Three highly anticipated panel discussions throughout the day will no doubt serve as highlights of the agenda, with companies Toyota, Valeo, VW Group, NVIDIA, atlatec, CARIAD, Texas Instruments and many more, among those represented. These discussions will aim to answer important questions such as "Will deep learning be central to the next stages of development?", "Will the challenges of advanced AI and limitations of deep learning mean otherwise?", "How can the challenges of high-precision HD mapping be addressed?" or "How can we solve the problems impeding growth in advanced sensor deployment?"
Rounding off the day's agenda, you are invited to the live-streamed AutoSens Awards, with six brand new categories to recognise achievement and creativity in our sector. The Awards celebrate those that have successfully overcome the technical challenges and brought industry changing products to market or worked on novel research that could shape the future of the industry. View info
To book your pass with 15% discount use code USTONLINE15