Governor Kathy Hochul has announced that Airtonomy, of Grand Forks, North Dakota, is the $1 million grand prize winner of round five of the GENIUS NY accelerator competition. 
The GENIUS NY program, which is administered by CenterState CEO's Tech Garden in Syracuse, offers participants incubator space, company resources, programming and mentoring. The year-long program is the world's largest business competition focused on unmanned systems, cross-connected platforms and other technology-based sectors.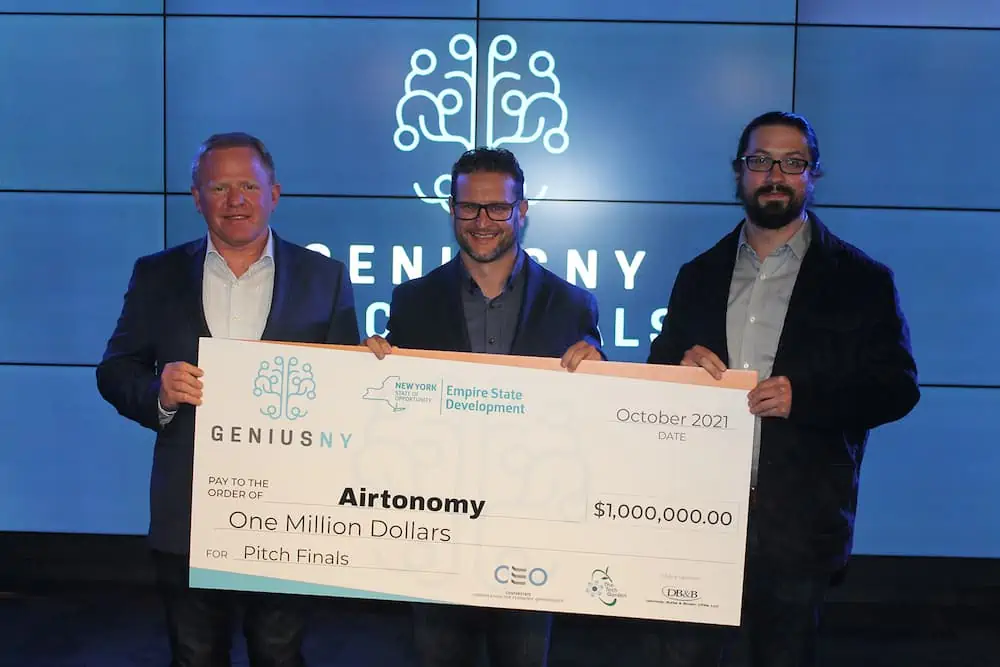 Grand prize winner Airtonomy, which was started in 2018 and has 25 employees, enables anyone to collect data uniformly using autonomous vehicles or drones. It makes complex flight as easy as pushing a button so that a wind technician, security guard or power lineman can operate a drone safely and consistently, and collect data uniformly. This means data collected can be processed automatically using machine learning and turned into actionable intelligence for an organization.
"Airtonomy is transforming the UAS landscape and is honored to be selected as the GENIUS NY 2021 winner," said Airtonomy founder and CEO, Dr. Joshua R. Riedy. "This award will fuel Airtonomy's continued growth and will result in the hiring of local talent and the direct investment in the UAS ecosystem, including throughout the Central. The GENIUS NY program, especially the amazing people and organizations involved, have been incredible. We look forward to reciprocating the support we've experienced with other startups in the region. GENIUS NY exemplifies the type of expertise, networking, and support crucial for the success of a startup. We've gotten to know the other finalists very well and every one of them is outstanding so we're proud to be in their company."
Airial Robotics of Hamburg, Germany, CarScanner of Krakow, Poland, Circle Optics of Rochester, NY and WindShape of Geneva, Switzerland were each awarded investments of $500,000 following the round five virtual pitch event.
The teams will use their investments to continue to accelerate their growth and expand their presence in the region. To date, New York State has invested $25 million in GENIUS NY over five rounds of the competition. GENIUS NY participants are required to operate their business in Central New York for at least one year.
Since 2017, GENIUS NY companies have raised more than $73.5 million in follow-on funding and have created 60 jobs in the region. The advancement of the GENIUS NY program builds on the progress of CNY Rising, the region's award-winning strategic plan to revitalize communities and grow the economy.
"Our continued investment in Unmanned Aerial System (UAS) businesses is helping to ensure that New York remains the leader in this important industry and brings quality jobs and economic growth to Central New York." Governor Hochul.
Director of GENIUS NY at CenterState CEO, Kara Jones explained, "The teams will now begin the second phase of this competition, where they will utilize the input received from judges to go to market, build stronger partnerships with GENIUS NY teams from prior rounds, and focus on technology and business development, hiring and establishing headquarters and offices in Central New York. Each team will receive targeted support from mentors and advisers and will have additional opportunities to meet with investors to ensure their success."
Rob Simpson, president of CenterState CEO, said, "The investments made through the GENIUS NY program, coupled with resources and support programming, will accelerate the growth of these high-potential UAS companies and the UAS sector in our region. As they establish their businesses in the region we will provide targeted business development support to enable them to leverage these investments, advance their technologies and platforms, create jobs and contribute to the growing UAS ecosystem we have established in Central New York."