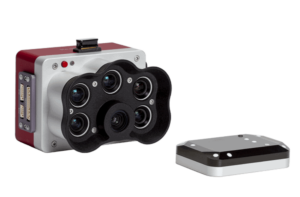 MicaSense has launched the RedEdge-P, the company's new multispectral sensor for UAVs (unmanned aerial vehicles) that provides three times the capture speed and twice the spatial resolution of its predecessor the RedEdge-MX, with a higher-resolution panchromatic band. The RedEdge-P is compatible with a wide range of fixed-wing and multirotor drones.
The RedEdge-P captures calibrated high-resolution multispectral and RGB imagery with an optimized field of view and capture rate for efficient flights. The solution seamlessly integrates a high resolution, all-color imager with synchronized multispectral imagers to enable pixel-aligned outputs at previously unattainable resolutions. Processing of data outputs will be enabled through industry standard software platforms, including AgEagle's Measure Ground Control.
Agricultural professionals requiring a reliable and efficient way to capture radiometrically calibrated RGB and multispectral data will benefit from the RedEdge-P, which can enable effective plant counting and spectral analysis of small plants. Likewise, federal, state and local government and commercial forestry enterprises will also benefit from precise, efficient data collection and tree-level analysis as opposed to being limited to analyzing large swaths of land to make critical forestry management decisions.
Justin McAllister, Vice President of Research and Development at MicaSense, commented: "We are very proud to be introducing what we believe is the commercial drone industry's best solution for capturing high-res RGB and multispectral data from a single camera. The RedEdge-P has been purpose-built to enable comprehensive, season-long plant canopy analysis over larger acreage and at a spatial resolution that is considered among the highest available in the industry."
Brandon Torres Declet, Chief Executive Officer of MicaSense's parent company AgEagle, said: "By leveraging and amplifying the first-class engineering talent and development expertise of our team, AgEagle is committed to pioneering innovations in drone hardware, software and sensors that empower enterprises and government agencies to do more, see further, go farther. We are very excited to bring yet another industry leading drone solution to market which we expect will have significant, positive impact on how our customers solve challenges and benefit from measurable improvement in efficiencies in their field operations."