congatec, a leading manufacturer of embedded computing solutions for UAVs (unmanned aerial vehicles), unmanned systems and robotics, has partnered with Unmanned Systems Technology ("UST") to demonstrate their expertise in this field. The 'Platinum' profile highlights how their computer-on-modules (COMs) and single-board computers (SBCs) can be used to enhance drone and robotic vehicle capabilities with artificial intelligence (AI), machine learning and computer vision.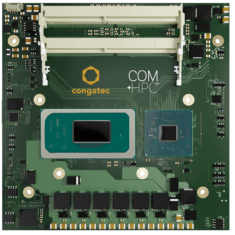 congatec offers modules based on the COM-HPC (high-performance computing) standard, designed to extend the COM concept to a full featured Server-On-Module, with support for the fastest I/O such as PCIe Gen5 and USB4 25G Ethernet. The COM-HPC solutions are based around the 11th Gen Intel Core processor series.
A variety of modules are also available based on the COM Express Type 6, Type 7 and Type 10 standards, based on various Intel and AMD processors and with a range of form factors.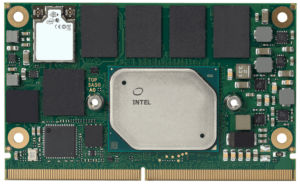 SMARC (Smart Mobility ARChitecture) modules provide system developers with a complete credit-card sized embedded computing platform that is ideal for IoT, robotics and graphics-intensive low-power applications. congatec SMARC modules are based on a variety of processors including ARM Cortex, NXP i.MX8, and Intel Atom/Pentium/Celeron.
Qseven modules leverage next-generation mobile embedded processors to provide extremely low power and small form factor solutions that are ideal for SWaP-constrained robotics. congatec Qseven modules measure just 70×70 mm and are based around Intel Atom/Pentium/Celeron processors.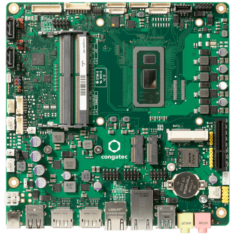 Thin-Mini ITX SBCs feature a flat form factor with a maximum height of 25mm, making them ideal for space-constrained applications. With products based on embedded Intel Core processors for high-performance applications, and Intel Atom-class processors for low-power requirements, this range of SBCs features a variety of I/O options and extended temperature ranges for industrial environments.
congatec's compact Pico-ITX form factor SBCs are ideal for space-constrained robotics and IoT (Internet of Things) applications, and feature low power consumption with a TDP of between 5 and 12W. The range includes options based on Intel Atom, Pentium and Celeron processors.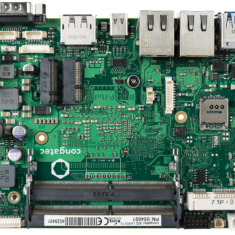 3.5" format SBCs are ideal for applications requiring a smaller solution than Mini-ITX, or where Pico-ITX falls short on performance, I/O variety, expansion options or wide-range DC input. The industrial-grade SBCs are available with a variety of dedicated cooling solutions such as heat spreaders and integrated fans.
congatec also provides a range of embedded electronic design services, including customization of SBCs and COMs to suit exact requirements. They can also develop full custom hardware solutions, supporting the entire product lifecycle from initial design through to manufacture.
To find out more about congatec and their embedded computing solutions for drones and robotics, please visit their profile page: https://www.unmannedsystemstechnology.com/company/congatec/