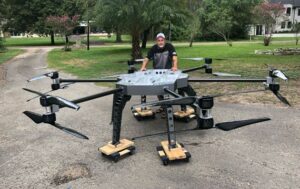 MaxAmps, a leading manufacturer of high-quality energy-dense lithium polymer (LiPo) batteries and battery packs for unmanned and autonomous vehicles, has partnered with Unmanned Systems Technology ("UST") to demonstrate their expertise in this field. The 'Platinum' profile highlights how their power solutions can be used for a variety of platforms, including UAVs (unmanned aerial vehicles), UGVs (unmanned ground vehicles) and AUVs (autonomous underwater vehicles).
The company can custom-design high-performance, high-energy density power solutions for a range of unmanned and autonomous systems requirements, including to mil-spec and aerospace standards. Customers can select battery pack configuration including side-by-side and end-to-end formats, as well as a variety of parameters including dimensions, voltage, and capacity.
MaxAmps also offers a range of off-the-shelf lithium polymer battery packs that are 100% waterproof, built with factory-fresh cells, and feature a lifetime warranty. They can be provided with bare wires in 8, 10 or 12AWG, or with a variety of connector options.
The 6000XL is a 6S battery pack that provides a capacity of 6000mAh and a voltage output of 22.2V. The high-density battery pack is 5C fast charge capable and built with genuine 12awg Deans Ultra wire.
6S battery pack solutions include a product that provides a capacity of 11000mAh and a voltage output of 22.2V. It is an ideal power solution for hexacopter UAVs such as the DJI S800 and S800 EVO with light payloads, and can be doubled up to provide extended flight times for larger drones such as the Freefly Alta.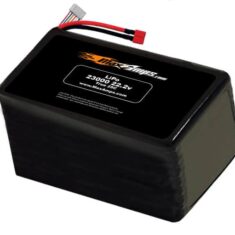 8S LiPo drone batteries include a pack that provides a capacity of 23000mAh and a voltage output of 29.6V, and is an ideal power solution for a variety of drone platforms. It can be fitted with two 4S JST-XH balancing taps for compatibility with chargers such as the Graupner Polaron Pro.
12S LiPo UAV batteries include a product that provides a capacity of 22000mAh and a voltage output of 44.4V – an ideal battery pack for a range of larger multirotor drone applications. It has been built with two 6S JST-XH balancing taps, allowing it to be charged by most 12S capable chargers.
To find out more about MaxAmps and their lithium polymer battery solutions for unmanned and autonomous vehicles, please visit their profile page:
https://www.unmannedsystemstechnology.com/company/maxamps/