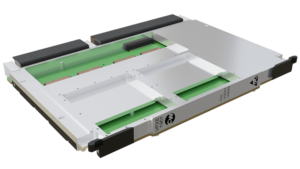 Curtiss-Wright Defense Solutions has developed a new single board computer (SBC) that will feature the new Intel Xeon W-11000E Series processor. The VPX6-1961 is designed to deliver high performance processing in extreme temperature, shock, and vibration conditions for demanding rugged applications such as UAVs (unmanned aerial vehicles) and unmanned systems.
The eight-core 6U OpenVPX module leverages the latest Intel Core architectures and enables system designers to significantly reduce their platform's size, weight, power, and cost (SWaP-C). Processing tasks that would formerly require multiple SBCs can now be consolidated into a single slot.
The VPX6-1961 provides enterprise-class virtualization through its processor's Intel Virtualization Technology (VT-x, VT-d), large amounts of onboard memory (64GB SDRAM and up to 1 TB SSD), and support for hypervisors such as VMware. The Intel Xeon W-11000E Series processor also provides acceleration for machine learning (ML) and artificial intelligence (AI) applications using Intel's Vector Neural Network Instruction (VNNI) technology and provides double the floating-point performance using AVX512 for accelerating math-intensive applications. The 11th Gen processor features Intel's latest Gen 12 graphics engine, providing up to three 4K display interfaces with performance that rivals discrete graphics solutions. These features of the Intel Xeon W-11000 make the VPX6-1961 ideal for demanding mission computing and virtualization applications in deployed environments.
The SBC's high-speed, dual-channel DDR4 memory subsystem is connected directly to the processor and supports up to 64 GB SDRAM. The VPX6-1961 also provides high-speed NVMe on-board SSD memory and includes dual XMC mezzanine sites to support a wide variety of expansion mezzanine daughter cards, including high performance FPGA, GPGPU, and storage modules.
The VPX6-1961 supports a wide range of popular operating environments, including Linux (CentOS and RHEL), Wind River VxWorks, Microsoft Windows, Green Hills Software INTEGRITY, and Lynx Software Technologies LynxOS. It provides a simple and powerful upgrade path for many older 6U VPX processing modules, and is pin-compatible with a wide range of Curtiss-Wright rugged deployable Intel SBCs.
Chris Wiltsey, Senior Vice President and General Manager at Curtiss-Wright Defense Solutions, commented: "Following Intel's recent introduction of its Intel Xeon W-11000E Series processor, we are proud to announce that this extremely high-performance new device will power our new VPX6-1961, the most powerful and capable single board computer we've ever brought to market. With its eight cores, support for enterprise-class virtualization, and highly rugged packaging, the VPX6-1961 utilizing the Intel Xeon W-11000E Series processor sets a whole new standard for embedded computing performance. Even better, it delivers double the floating-point performance with AVX512 to accelerate demanding math-intensive applications."