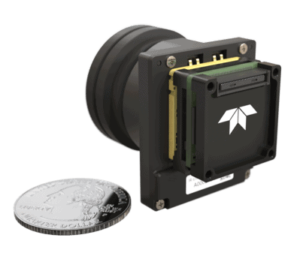 Teledyne has introduced the MicroCalibir, a compact and low-power uncooled thermal camera platform. Featuring the smallest VGA IR core module on the market, it is ideal for OEMs of drones and robotic vehicles.
The small and lightweight MicroCalibir benefits from Teledyne DALSA's integration of the in-house 12 μm microbolometer pixel technology with a deep-ADC ROIC (Read Out Integrated Circuit). This novel ROIC design results in a 1000°C intra-scene temperature range at a sub-50mK NETD.
The miniature 21 x 21 mm footprint offers excellent SWaP (size, weight and power) optimization for this type of LWIR imager, with very high dynamic range. The cameras can also reach very low (sub-30mK) NETD (Noise Equivalent Temperature Difference) levels thanks to advanced user-selectable noise filtering algorithms.
The MicroCalibir platform delivers accurate and high-end thermal capabilities and can be configured by resolution, field of view, and frame rate to deliver optimal performance for UAV and unmanned systems applications such as security and surveillance, firefighting and more.
MicroCalibir cameras and cores are available in QVGA and VGA resolutions with a variety of lens options. The modular design allows for different interface options. Current available interfaces are LVCMOS, and USB2, with a CSI2 version to follow in the near future.