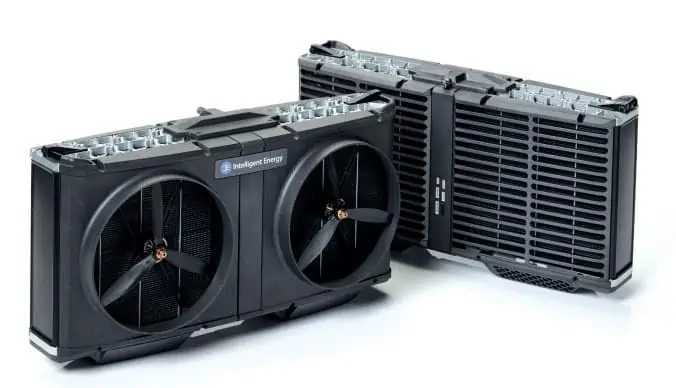 Intelligent Energy has achieved second place out of more than 40 global entrants in the U.S. Department of Commerce's National Institute of Standards of Technology (NIST) First Responder Unmanned Aircraft System (UAS) Endurance Challenge. The challenge was scored against a series of criteria including safety, endurance, performance in flight, setup time and cost.
The platform entered by Intelligent Energy into the contest was a Gryphon hexacopter fitted with the company's IE-Soar 2.4kW fuel cell power module. The lightweight, power-dense energy solution offers significantly longer flight times for UAVs when compared with traditional battery power, making it an ideal solution for commercial drone operators.
The UAV achieved a flight time of 102 minutes (with 10% fuel remaining for emergency reserves) while carrying a 10lb payload. This payload was designed to imitate a wireless signal transmitter that first responders would activate in a disaster situation should cell towers be out of action.
Judges on the NIST panel included UAS subject matter experts, public safety agencies and members from the FAA.
Jonathan Douglas-Smith, Aerospace Specialist at Intelligent Energy, commented: "We know what our IE-Soar modules can achieve and taking part in this challenge is a great way for us to show industries like first responder and disaster recovery just how they can be applied to support rescue missions at times when endurance of the UAV would be critical. It has been a great project to work on and importantly showcases the capability of fuel cells."
Dereck Orr, chief of NIST's Public Safety Communications Research (PSCR) division, which managed the challenge, stated: "Our grant programs and prize challenges help us make great leaps forward in solving public safety concerns by initiating collaboration with industry, academia and the public safety community"
"We had over 40 entries, all of an extremely high calibre, and it has been encouraging to see potential solutions for our research. The challenge has helped advance our mission and UAS technology with the winning team surpassing 112 minutes of flight time for FAA (Federal Aviation Administration) Part 107 drone flights, which are systems weighing less than 55 pounds flown by certified drone pilots."
Watch to learn more about the challenge: