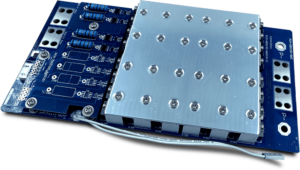 The Lithium Battery Co. (LBC) has announced that its Battery Management System (BMS) will include an option for an NMEA 2000 Wi-Fi Gateway, using a wireless gateway with a high-level protocol to communicate real time battery status to an application. 
The proprietary BMS will allow users to connect a fully integrated power management system via CANbus connection inside the battery pack. The battery pack will allow users to customize the lithium ion battery to maximize performance. It will also include instant diagnostics for troubleshooting with the first ever 'Lithium Black Box'.
The certified technology allows more accessible battery information in real time, streamlining technical support for OEM companies looking to integrate a lithium ion battery with their products. 
The communications platform will allow a user to add up to three separate radios that include an alternative to Bluetooth. 
LBC's custom battery design includes solutions for unmanned aerial, underwater, and ground applications. 
Find suppliers of Battery Management Systems (BMS) for unmanned systems >