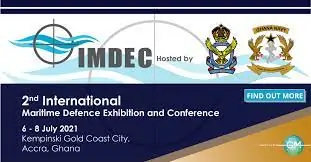 Maritime security has become a more important issue in West African region in recent times where attacks on ships and crew jumped at an alarming level last year, despite the COVID-19 pandemic. This, plus other challenges, will be addressed by the 15 Chiefs of Navies and Air Forces along with 300 senior officials attending the 2nd International Maritime Defence Exhibition and Conference taking place from 6-8 July, 2021 at Kempinski Hotel in Accra, Ghana.
International Maritime Defence Exhibition and Conference (IMDEC) is the largest maritime security exhibition and conference in West Africa. Held in partnership with Ghana Navy and Ghana Air Force, the IMDEC will be graced by the participation of key government leaders including H.E. Vice President of Ghana Alhaji Dr. Mahamudu Bawumia.
The Gulf of Guinea is a vast and diverse region stretching from Senegal to Angola, covering 6,000 kilometres of coastline. It is an important shipping zone transporting oil and gas, as well as goods to and from central and southern Africa. Piracy, armed robbery at sea, kidnapping of seafarers, illegal fishing, smuggling and trafficking, and transnational organised crime pose a major threat to maritime security in the Gulf of Guinea and ultimately to the economic development of the entire region.
In response, regional Armed Forces will be acquiring unmanned technology resources and combining capabilities to effectively address these threats at the 2nd IMDEC, taking place in Ghana. The three-day conference and exhibition (including an exclusive site visit) will see senior officials discuss and address how to continue tackling the issues of securing the increasingly volatile maritime threats facing Africa's territorial waters.
The 2nd edition of IMDEC will also welcome greater participation from regional Air Forces, as the Ghana Air Force will be an official event partner to highlight the significance of air-maritime cooperation.
Organised by Great Minds Event Management, a global strategic events management organisation that closely works with governments, IMDEC will address key defence and maritime security issues and showcase new unmanned technology for the defence sector. Participating companies will be demonstrating their best products and services that could equip the naval and air forces and enhance their defence capabilities at sea. A snapshot of some of the companies confirmed to participate include Paramount, Israel Shipyards Ltd, Israel Aerospace Industries, MBDA and Airbus and will all be showcasing their latest technologies and services throughout the two-day exhibition.
AVM Frank Hanson Chief of The Air Staff, Ghana, said, "It is not surprising that the key highlights of IMDEC 2021 will feature, for the first time, the role of air power in maritime operations. The strategic objectives of the Ghana Air Force are to redefine the national maritime capability as an economic multiplier to national and sub regional development. This capability is to connect the maritime domain to strategic economic centers of our sub region. I therefore wish to encourage our neighbors to take advantage of IMDEC 2021."