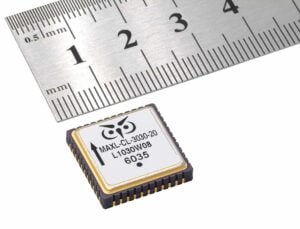 Physical Logic has released an article detailing the process taken by the company to introduce its recently released navigation-grade MAXL-CL-3030 closed-loop MEMS accelerometer. The NPI (New Product Introduction) program was developed after the successful development of new charge release features that minimized charging effects on MEMS device surfaces and enabled mass production of the accelerometer.
Download the full article here
The four steps of the NPI detailed in the article include:
Accelerated environmental tests using a specialized HALT (highly accelerated life test) oven, including temperature cycles and increasing vibration
Product qualification procedure performed on randomly selected units and tracking bias, scale factor and misalignment changes
Statistical analysis performed on ≥100 assembled sensors manufactured from at least three MEMS wafers and two assembly batches
Accelerated lifetime testing tracking changes in bias and scale factor measurements
The tests showed that Physical Logic's MAXL-CL-3030 exhibits long term bias repeatability error of less than 500μg and scale factor repeatability error of less than 400 ppm. To find out more, download the full article here.