Blue Robotics, a leading developer of marine robotics systems and components, has partnered with Unmanned Systems Technology ("UST") to demonstrate their expertise in this field. The 'Silver' profile highlights how their underwater ROVs (remotely operated vehicles), thrusters and accessories enable a wide range of missions for commercial, research and exploration applications.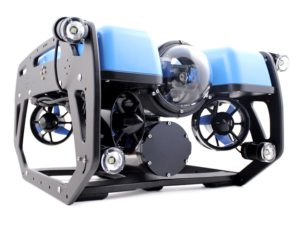 The BlueROV2 is a high-performance, highly configurable ROV designed for underwater inspections, research and ocean exploring. With open-source hardware and software, the platform features an unprecedented level of flexibility and expandability, allowing users to easily make improvements and upgrades to take on a huge variety of missions down to depths of 100m (330 feet).
The ROV incorporates six Blue Robotics T200 thrusters in a vectored configuration, delivering excellent thrust-to-weight ratio and providing the ability to move precisely in any direction. The system can be expanded to eight thrusters via a Heavy Configuration Retrofit Kit, and features adjustable gain levels for precision control at extremely low speeds as well as high power to overcome currents and carry heavy loads. The BlueROV2 is provided with a Fathom ROV tether, with available length options from 25m (82 ft) up to 300 m (984 ft).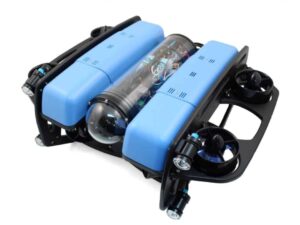 The underwater ROV features a front-mounted high definition (1080p, 30fps) wide-angle low-light camera that has been specially optimized for the platform. The camera's tilt mechanism allows the pilot to look up or down even when the vehicle is level. A choice of two or four dimmable lights provides illumination of up to 6000 lumens.
The BlueROV2's open frame has been designed like a work- or research-class ROV, allowing easy attachment of a wide variety of accessories, including custom and third-party. Blue Robotics also provides a versatile payload skid that further extends the frame and facilitates the attachment of much larger payloads.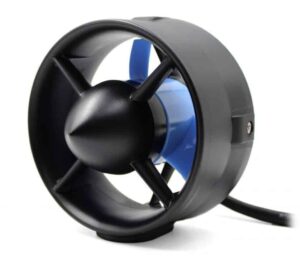 The T200 is a powerful and compact underwater thruster for AUVs and ROVs and can also be used to convert a wide variety of floating platforms into USVs (unmanned surface vessels). It features a patented fully-flooded brushless motor design that provides cooling and lubrication for enhanced efficiency and longer life.
The thruster's body and propeller are constructed from durable polycarbonate plastic, and the only exposed metal components are made from marine-grade 316 stainless steel. The compact design features a minimal number of parts, simplifying operation and maintenance.
The T200 marine thruster is ideal for powering a wide range of autonomous and unmanned underwater and surface platforms in commercial and research applications such as inspection, environmental monitoring, aquaculture, shipwreck exploring and more. It has also been used as the thruster of choice in many underwater robotics competitions such as MATE ROV and RoboSub AUV.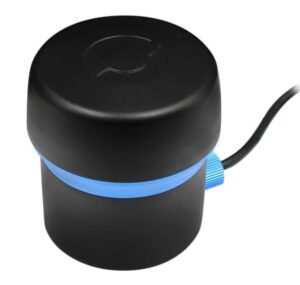 The Ping360 is a mechanical scanning sonar for ROV navigation and underwater acoustic imaging that features a range of to 50 metres (165 feet) and a depth rating of 300 metres (984 feet). Providing excellent performance in low-visibility conditions, it is ideal for inspection, obstacle avoidance, target location and tracking, and more.
Measuring acoustic echoes in one-degree increments through a full 360 degrees, the scanning sonar delivers a top-down view of the ROV's surroundings, providing visibility of objects and structures such as ropes, walls, dock pilings, rocks, shipwrecks, boats and marine life.
The Ping360's design features a rugged anodized aluminium housing with an oil-filled section at the top for the acoustic transducer. The unit is easily mounted to ROVs with four M3 mounting holes and an included bracket, and the 1-metre (3.3 foot) cable comes with a pre-installed cable penetrator.
To find out more about Blue Robotics and their ROVs and components, please visit their profile page:
https://www.unmannedsystemstechnology.com/company/blue-robotics/