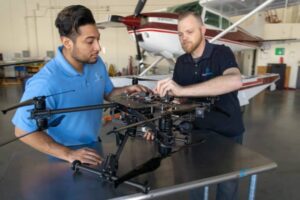 Robotic Skies has received an investment from Japan-based partnership Drone Fund to support continued growth and development for its network of maintenance and repair stations for commercial and industrial drones. The company was selected by the investment partnership due to its innovative and scalable business model.
The Robotic Skies business model builds on emerging commercial drone policy and legislation in the United States and from other Civil Aviation Authorities worldwide, towards requirements for certified maintenance solutions that ensure safety and ongoing airworthiness of unmanned aerial vehicles (UAVs). The company's robust network of repair stations has also positioned Robotic Skies to respond to the forecast volume of commercial drones and advanced air mobility aircraft that will require certified maintenance support.
Robotic Skies' extensive field support network includes over 225 independently owned and operated FAA Part 145 repair stations that serve customers across 49 countries.
Brad Hayden, CEO and founder of Robotic Skies, commented: "With the investment from Drone Fund, we will continue to develop our marketplace, providing drone operators around the world with professional maintenance and repair services through our network of highly trained aviation technicians. As we have anticipated for years, industry regulations continue to advance towards requirements for certified technicians to maintain commercial drones performing complex operations like autonomous package delivery."