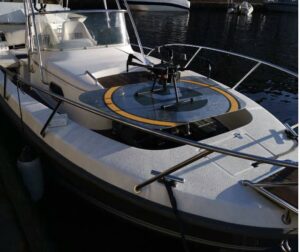 STABLE, a leading developer of innovative stabilized launch and landing platforms for UAVs (unmanned aerial vehicles) and drones, has partnered with Unmanned Systems Technology ("UST") to demonstrate their expertise in this field. The 'Silver' profile highlights how their gyro-stabilized platforms provide a perfectly horizontal launch and landing surface for drones operating in highly demanding and dynamic maritime and offshore environments, and also allow unmanned aircraft to land on moving ground vehicles.
STABLE's drone take-off and landing stations are fully customizable and can be adapted to UAVs of all sizes and to a wide range of military, commercial and industrial operational requirements. The lightweight platforms are fully electric, consume limited power, may run on 12V or 24V, and are manufactured for offshore & marine environments.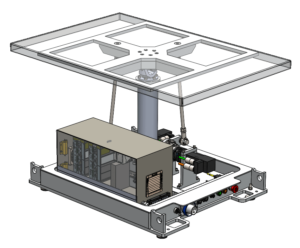 The stabilized UAV landing pad technology can be adapted to standard single or double Euro Pallet sizes. The base of the system can be securely strapped to the deck of a vessel, and a weather-protective curtain protects the system's electronics and mechanical components from rain and sea spray.
STABLE has also integrated its stabilized drone launch pad technology into a containerized hangar designed for UAV-based inspection and servicing of offshore wind farms, oil rigs, tidal energy installations and other facilities.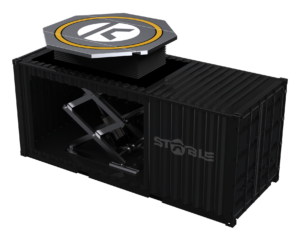 Take-off, landing and sensor calibration can all be highly challenging under the dynamic conditions caused by waves and harsh weather, and the stabilized platform technology ensures that drones always have a perfectly horizontal platform to operate from, resulting in accurate, efficient take-off and landing. In addition, the containerized enclosure also provides a convenient storage and maintenance space for the drone, protecting it from the elements when not in use.
The containerized system is currently being utilized in a joint project between Griff Aviation, ship operator Olympic Subsea and NORCE (Norwegian Research Centre)/UiT The Arctic University of Norway.
To find out more about STABLE and their stabilized drone launch pad technology, please visit their profile page:
https://www.unmannedsystemstechnology.com/company/stable-as/