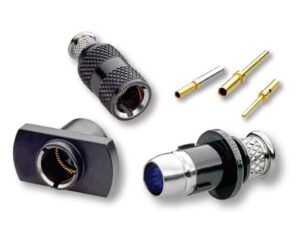 TE Connectivity has expanded its line of O.C.H. micro circular connectors with a new design that features a seventh pin that can be used for grounding or as an extra signal line. The connector was originally developed for military battery pack applications, and can be used for a variety of other subsystems and equipment on board UAVs (unmanned aerial vehicles), UGVs (unmanned ground vehicles) and other unmanned systems.
The connector was designed to meet the needs of a wide range of applications within the U.S. Army's Nett Warrior soldier systems, a program developed to provide ground soldiers with instant situational awareness and communications capability by directly connecting them to the Army's tactical network.
The seven-pin O.C.H. micro circular connectors are designed to operate in rugged, harsh combat environments, are compliant with various standards such as MIL-STD-810G, and feature push/pull quick disconnect coupling. The aluminium alloy shell and thermoplastic inserts make the connectors lightweight and compact, making them ideal for space-constrained unmanned vehicles and robotics.