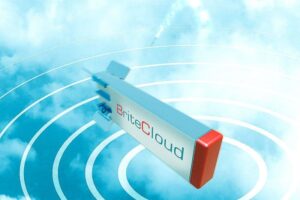 Leonardo and General Atomics Aeronautical Systems, Inc. (GA-ASI) are working together to integrate Leonardo's BriteCloud expendable active decoy into the MQ-9 unmanned aerial system (UAS). Britecloud is designed to protect aircraft from modern radar-guided threats, incorporating sophisticated jamming technology in a package the size of a drinks can that can be fired like a flare.
Designed and manufactured in the UK, BriteCloud was first adopted for service by the Royal Air Force following an extensive testing campaign. It is currently being evaluated by the US Armed Forces under the US Foreign Comparative Test (FCT) programme. BriteCloud is available in different variants for a range of aircraft types. BriteCloud 218 (a 2x1x8 inch 'brick' round) is the version compatible with the MQ-9's dispensing system.
BriteCloud employs Digital Radio Frequency Memory (DRFM) jamming technology for enhanced protection against radar-guided surface-to-air and air-to-air missiles. This technology allows the BriteCloud round to sense and process incoming radar signals and, in response, develop and transmit a highly convincing electronic 'ghost' signal, fooling threat radars into following the decoy rather than the aircraft.
To date, a number of BriteCloud rounds have successfully been launched from an MQ-9 in an aircraft survivability 'carriage and release' trial, designed to ensure that the decoy can be dispensed safely from the platform's new Self-Protect Pod. Discussions are underway concerning further tests with live rounds in order to demonstrate that BriteCloud can effectively protect the MQ-9 against the most advanced radio frequency (RF) threats.