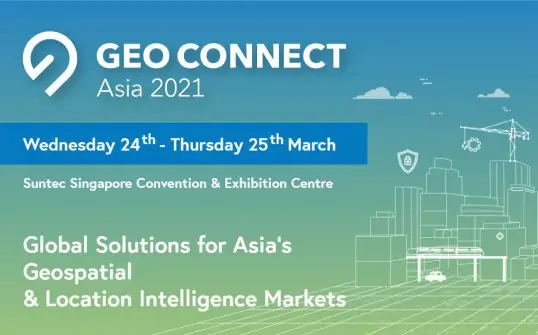 International events organiser Montgomery Asia announced today that its highly anticipated flagship geospatial and location intelligence event for Southeast Asia, Geo Connect Asia, has gone hybrid. Bringing together the latest innovations in smart cities, digital construction, remote sensing and UAVs, amongst many others, Geo Connect Asia 2021 will take place at the heart of Singapore, with both a physical event on 24th and 25th March 2021 at the Marina Bay Sands Expo & Convention Centre, as well as a virtual Geo Connect Asia 2021 for delegates and visitors.
Themed "Global Solutions for Asia's Geospatial & Location Intelligence Markets", Geo Connect Asia (GCA) 2021 will be Southeast Asia's inaugural online & offline conference and business-led geospatial services and location intelligence event. It is also set to be Singapore's first large-scale physical-virtual event to-date in 2021, combining a two-day conference, technical talks and plenary sessions to provide a forum for an industry which is crucial to regional development as ASEAN economies continue to recover from the impact of the pandemic. GCA 2021 is where digital transformation embraces smart and sustainable cities as drivers of change and will provide a personalised meeting space for business and educational exchange.
Geo Connect Asia Conference
The event highlight is the Geo Connect Asia Conference themed, "Mapping the Data-driven Future Economy". Led by high-level speakers and thought leaders from across the global geospatial industry, it will provide a strategic and collaborative platform for industry professionals, government agencies, start-ups and more to exchange knowledge, expand networks, and develop global solutions for burgeoning geospatial & location intelligence markets across Asia. The two-day conference will comprise various panel sessions where industry experts will share invaluable insights, provide responses to real and current challenges and will also facilitate both face-to-face and virtual business meetings to be conducted in the safe environment complying to Safe Management Measures (SMM).
The conference will feature 40 leading international speakers including Hwang Yu-Ning, Chief Planner & Deputy Chief Executive Officer, Urban Redevelopment Authority, Singapore; Philipp Kandal, Head of Engineering, Geo, Grab, Singapore; Dr Winnie Tang, Founder & Honorary President, Smart City Consortium, Hong Kong; David Henderson, Chief Geospatial Officer, Ordnance Survey, United Kingdom; Robbie Schingler, Co-founder & Chief Strategy Officer, Planet Labs, United States; and Farizan D'Avezac de Moran, Senior Consultant, GreenA Consultants, Singapore. Key highlights of the GCA 2021 Conference include 10 keynote addresses, panel sessions and extensive dialogue. In-depth commentaries and expert analyses from key opinion leaders from across the diverse geospatial sector and beyond will focus on:
Geospatial planning and solutions: the key to a robust and sustainable recovery
Building resilience and sustainability into the ASEAN digital economy
Earth observation satellites, remote sensing & drones: managing the data explosion
Sustainable and liveable cities
Digital twins: transforming the dynamics of connected infrastructure planning
Smarter infrastructure for sustainable cities
On the move: Smart transportation for Asia's dynamic urban landscapes
Easily accessible data for the future of Geospatial Planning
Digital Innovation Roundtable: Putting 5G to work: intelligent use cases for ASEAN
The Digital Construction Asia DialogueThe event will also include complimentary technical seminars from global experts that have been curated for the geospatial community to learn more about current market insights, trends and the impact of innovative disruptive technologies that could bring positive change across the diverse range of industries relevant to GCA 2021.
A Dual-Platform Model
Montgomery Asia is proud to work with the Singapore Tourism Board (STB) to ensure the safety and well-being of attendees. This includes complying with Safe Management Measures (SMM) such as crowd density control and the use of TraceTogether to facilitate contact tracing for international visitors.
GCA 2021 will be a pilot tradeshow trialling the 'hybrid event' prototype developed by the Alliance for Action on Enabling Safe and Innovative Visitor Experiences. The prototype seeks to provide delegates with the degree of interaction they would be accustomed to in a regular tradeshow setting – but in a far safer way which minimises infection risks.
By going hybrid, Geo Connect Asia 2021 will offer both physical and virtual attendees an engaging, seamless, and immersive experience. At the physical event, a range of interactive activities will be available, offering extensive learning as well as face-to-face business meetings and networking opportunities.
At the virtual event, the Show Floor will host up to 50 companies to create a meeting space which visitors can easily navigate, with international companies making up more than half of the suppliers. In addition, virtual attendees will be able to change their viewing preferences at any time, providing a bespoke and highly curated experience for each visitor.
With this twin format, Geo Connect Asia becomes more accessible to interested stakeholders in the geospatial industry from all over the world, thus connecting the ASEAN geospatial community beyond the immediate region.
Rupert Owen, Montgomery Asia Event Director and Co-founder, said, "We are hugely excited to announce that Geo Connect Asia 2021 will be Singapore's first physical-virtual event of its size in 2021. Going hybrid is set to be a game-changer in this new normal, as international travel remains limited while physical events are slowly allowed to resume (under strict health & safety protocols). There has also been significant clamour for the safe resumption of face-to-face meetings after a very long interval, and a dual-platform approach brings the best of both worlds. In spite of challenging market conditions, we have been receiving strong support from the industry, including Bentley Systems as Gold Sponsor, to participate in Geo Connect Asia 2021, to add to a strong list of previously committed companies. We look forward to providing a very personalised experience for the ASEAN geospatial community and the associated industries and at the same time reaching out to a much wider audience in a virtual space."
Ng Siau Yong, Director of the Geospatial and Data Division and Chief Data Officer at the Singapore Land Authority, said, "SLA continues to support Geo Connect Asia as a Knowledge Partner, as the event is a key lynchpin of the geospatial community in Singapore and ASEAN. The geospatial sector has a role in accelerating opportunities and economic recovery as the region's economies shift to the new normal. Geo Connect Asia could act as a catalyst for accelerating the broader adoption of cutting-edge geospatial technologies across a vast range of sectors in Southeast Asia. As Singapore forges ahead towards becoming a Smart Nation, geospatial technologies will have a growing role to play in the country's growth and transformation."
Andrew Phua, Executive Director of Exhibitions & Conferences at the Singapore Tourism Board, said, "STB will continue to support and collaborate with our MICE industry to cement Singapore's position as one of the world's leading destinations for safe, trusted, and innovative MICE events. The event's focus on digital transformation and sustainability in smart cities is in line with the opportunities that Singapore is exploring in the new environment. Geo Connect Asia 2021 is also the first hybrid tradeshow of the year in Singapore, and we look forward to a safe and fulfilling experience for all our visitors and delegates."